Planet Omega
OMEGA Timekeeping at Pyeongchang 2018
OMEGA TIMEKEEPING AT PYEONGCHANG 2018
OMEGA's legacy of sports timekeeping is long and distinguished. Serving as Official Timekeeper since 1932, we have recorded numerous dreams at the Olympic Games and Paralympic Games. At PyeongChang 2018, we are assuming our duties for the incredible athletes involved in both these sporting events.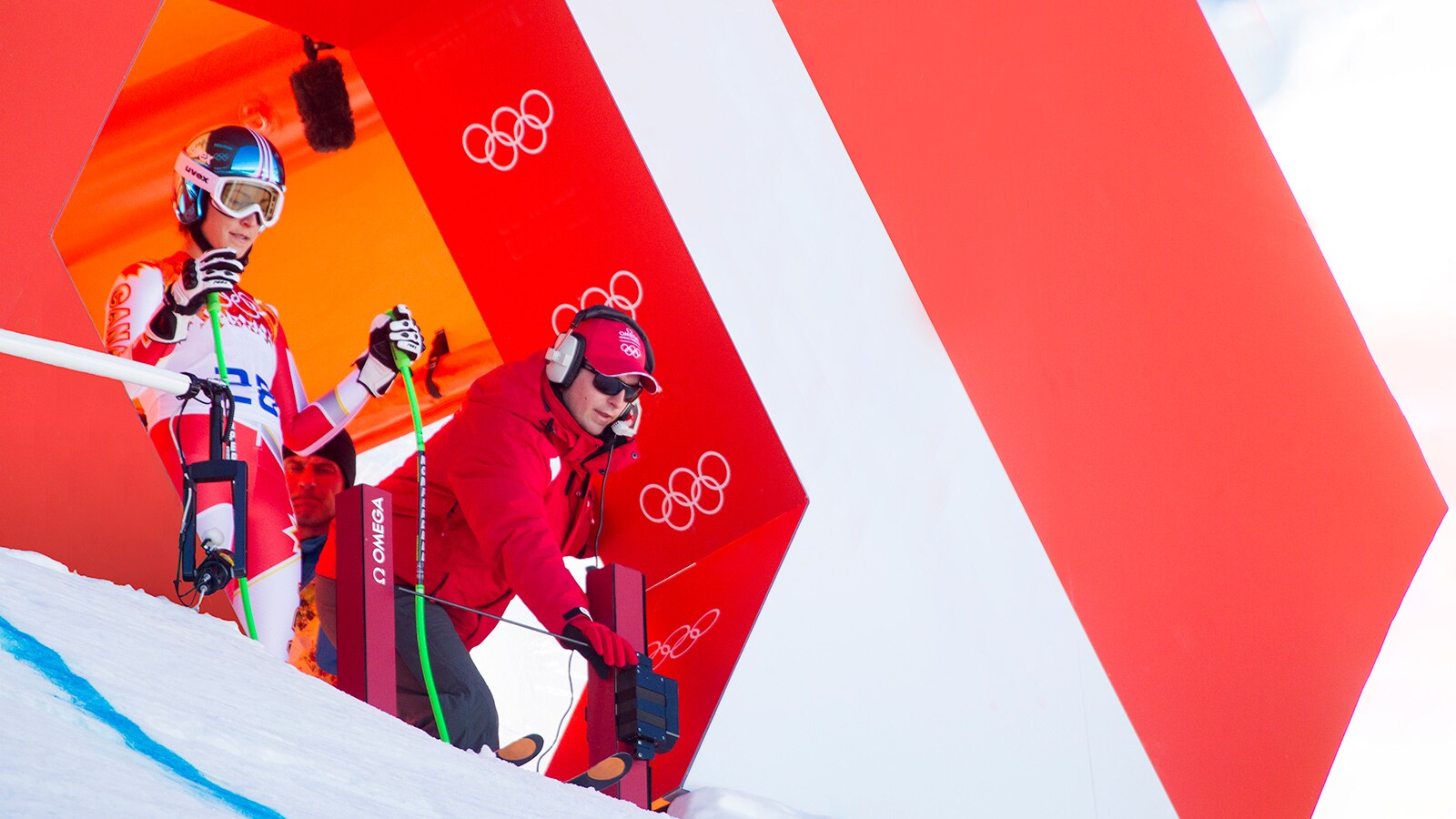 Blades of glory: How OMEGA times Speed Skating
To keep pace with the fastest, human-powered, non-mechanical-aided sport in the world, OMEGA's timekeepers are bringing an arsenal of high-tech equipment to the ice, including an electronic starting gun, lap counter, and in some events – information transmitting 'transponders' worn on the ankles of competitors.
1. Myria Photofinish Camera
2. Laser Photocells
3. Sided Display
4. Starting Gun
5. Lap Counter with Bell
6. Transponders
7. Timekeeping room
8. OMEGA Timer
9. Main Public Scoreboard
10. Transponder Decoder Box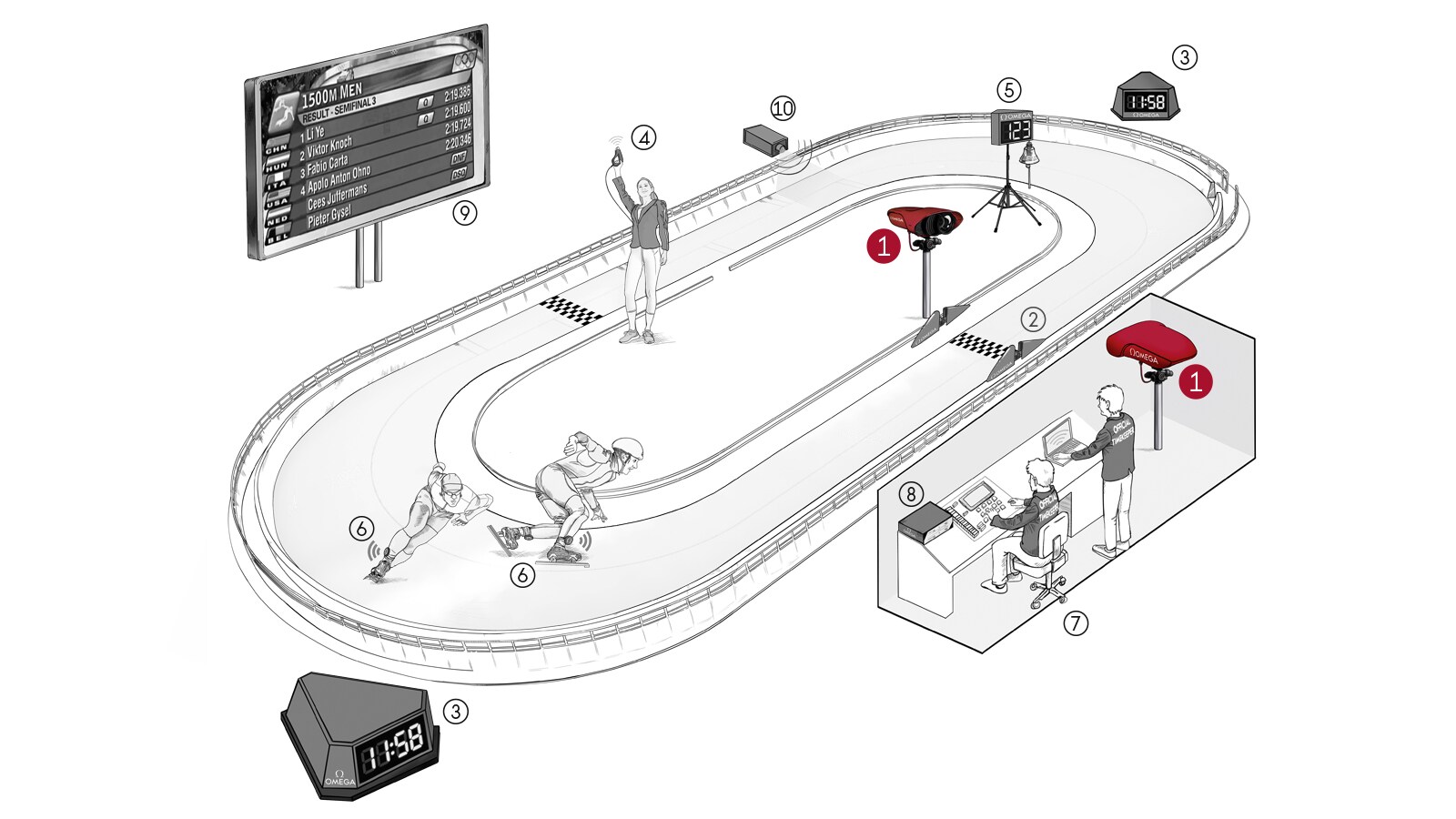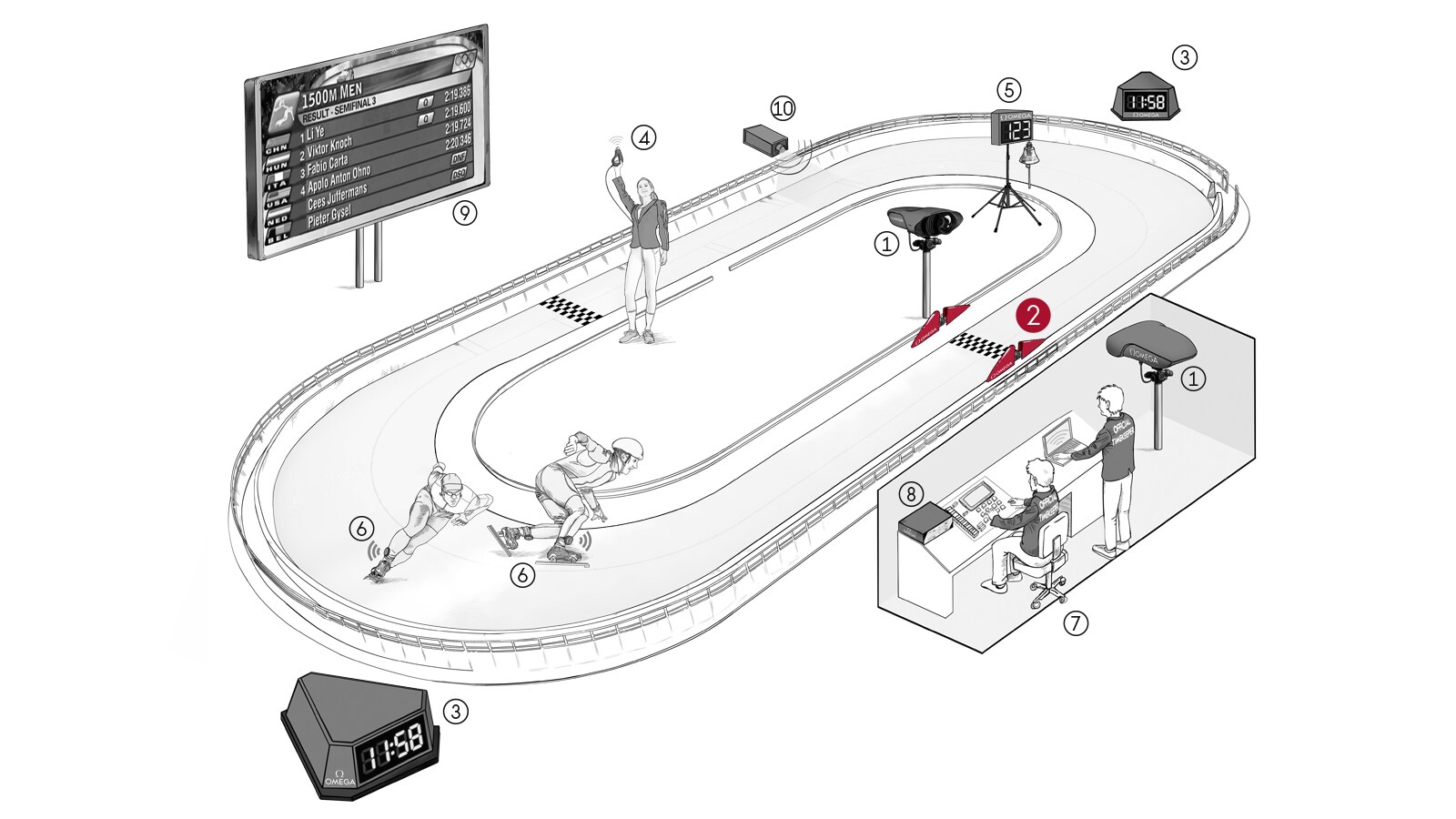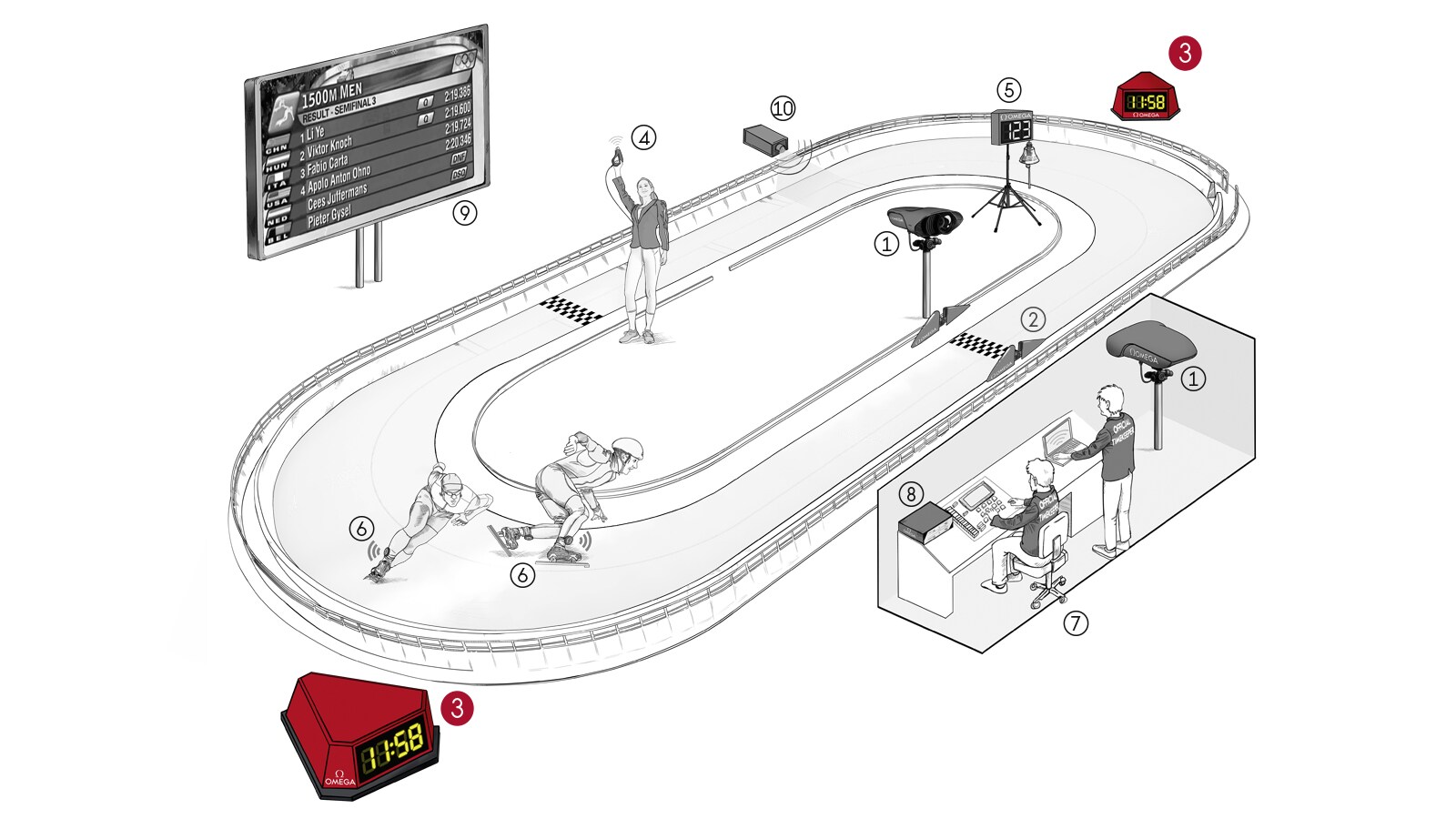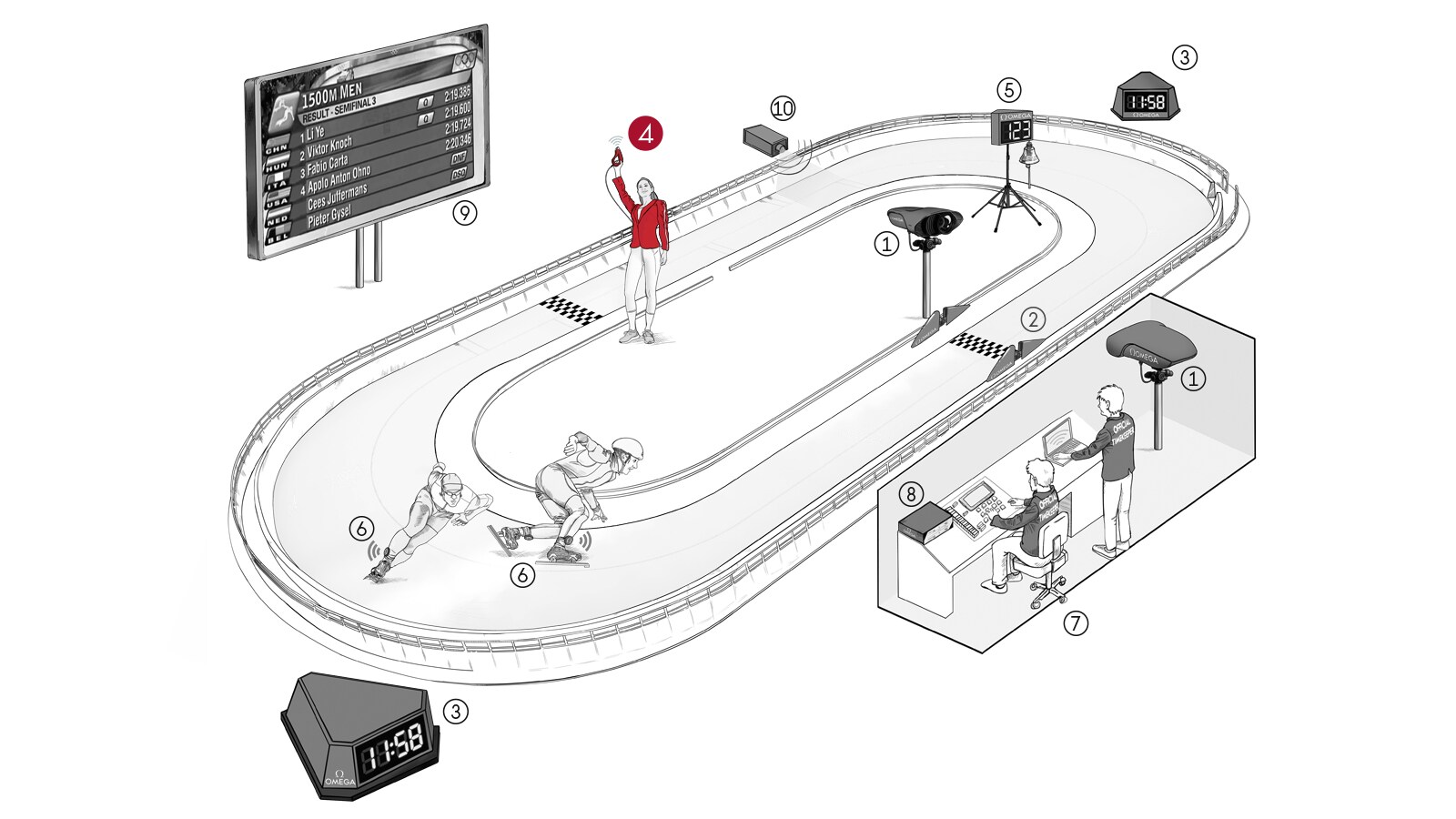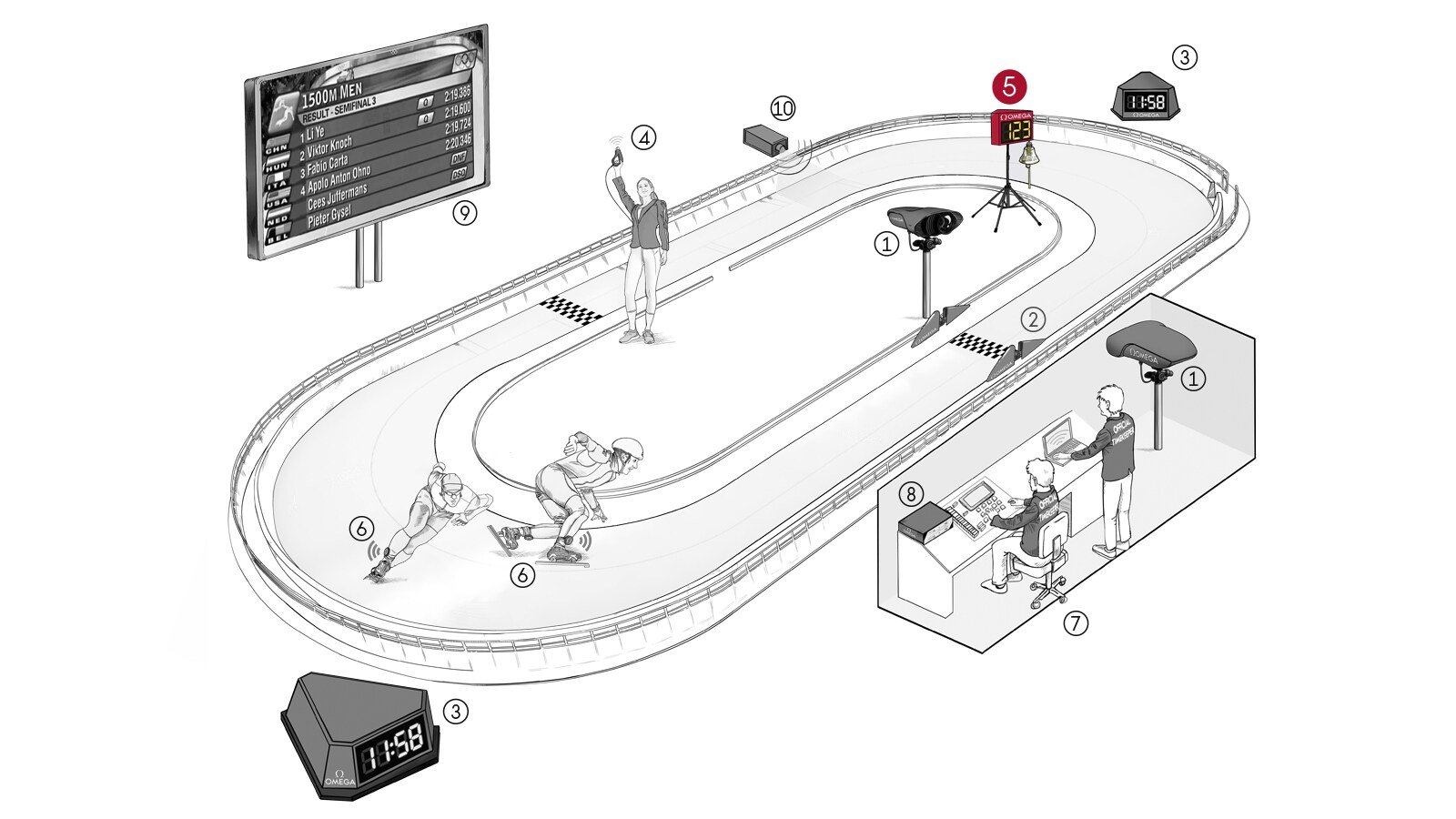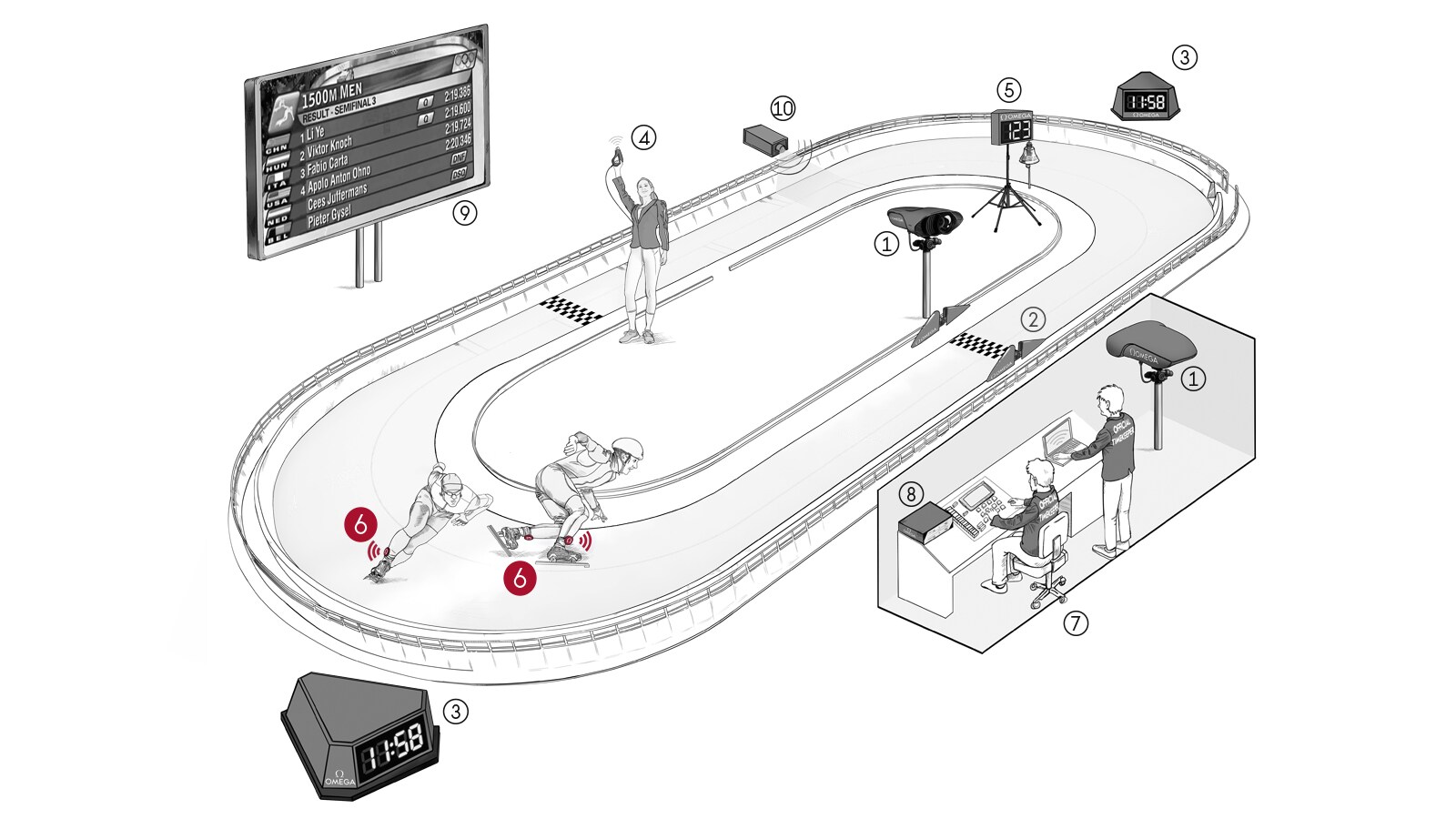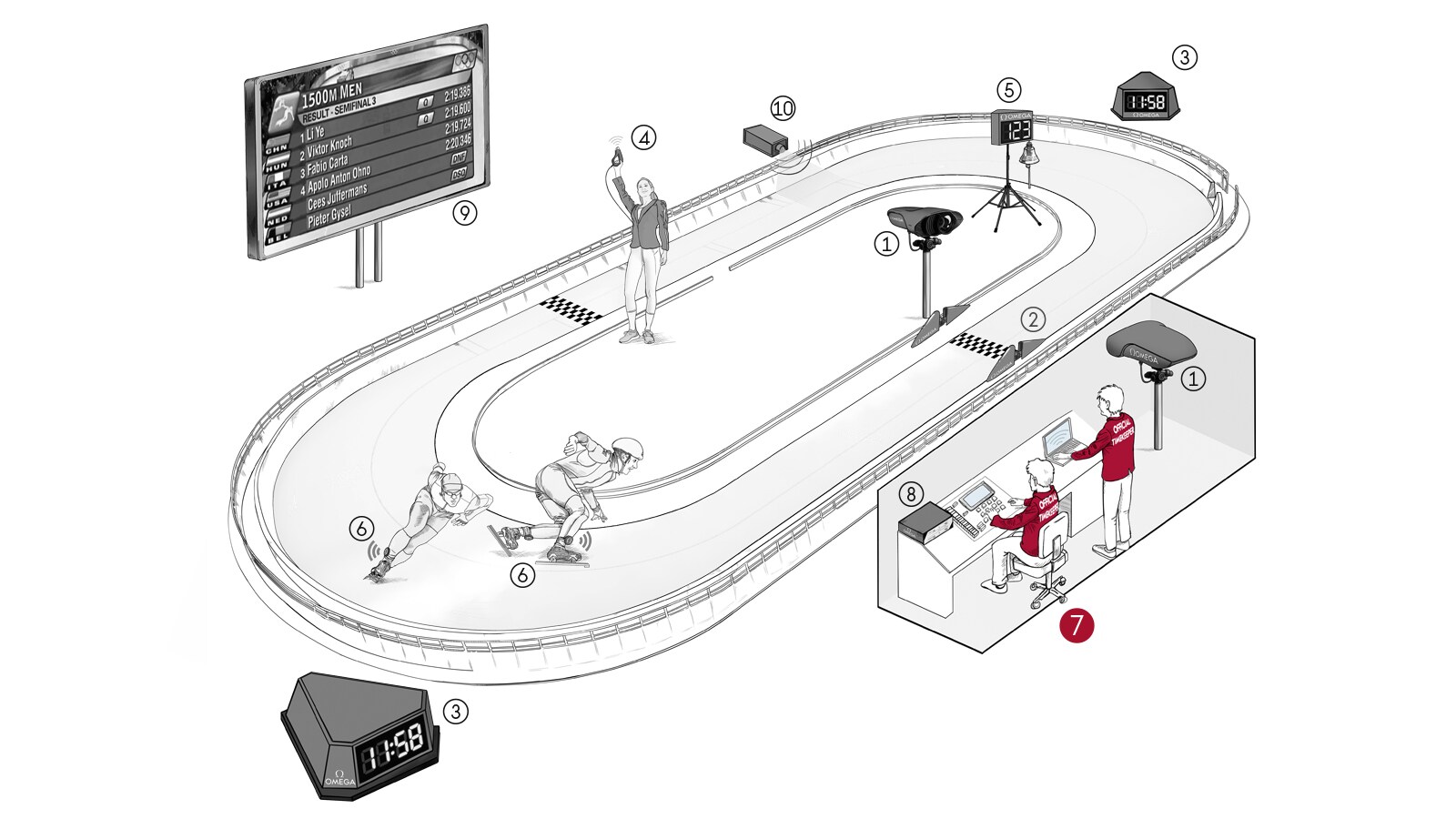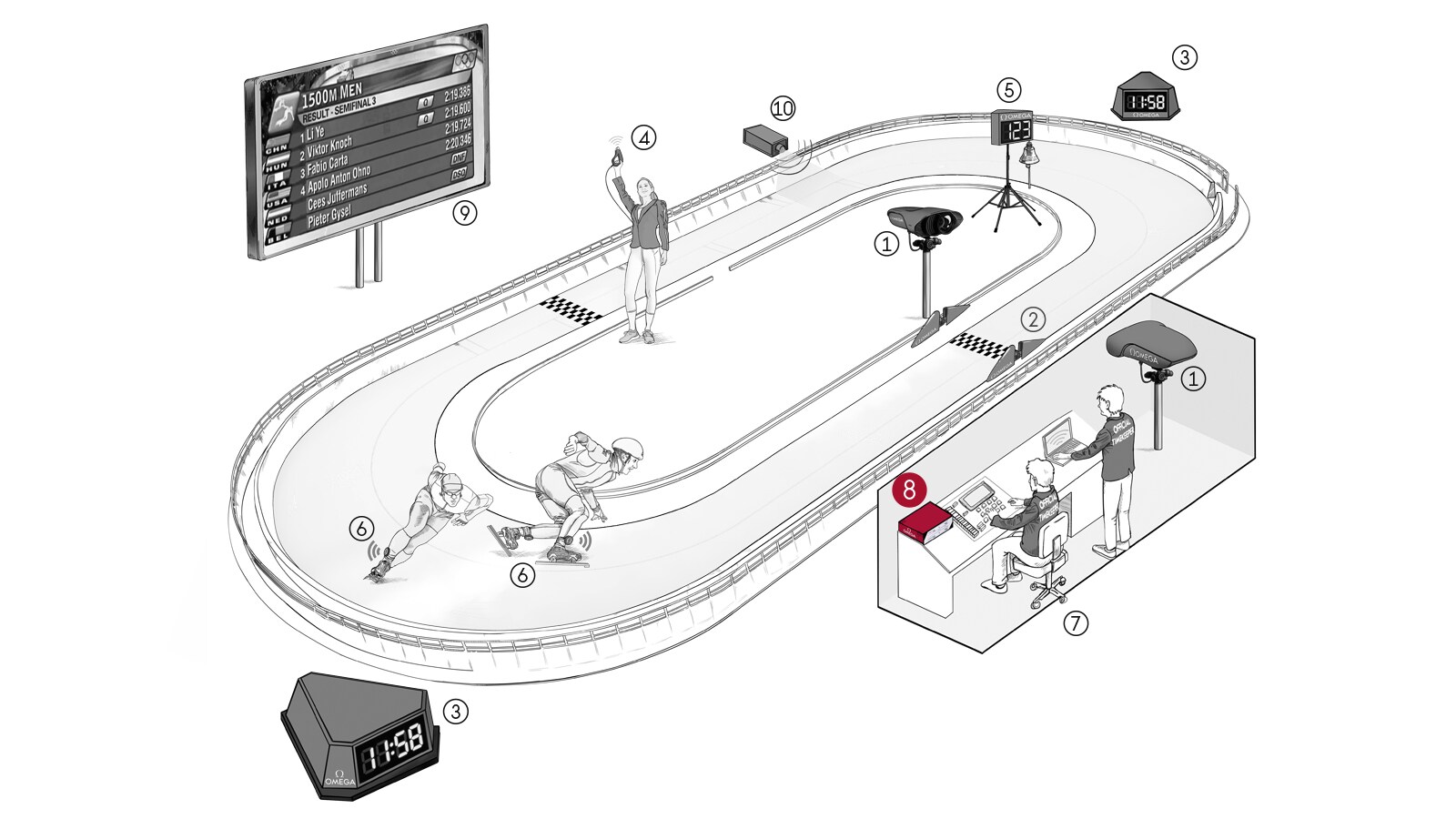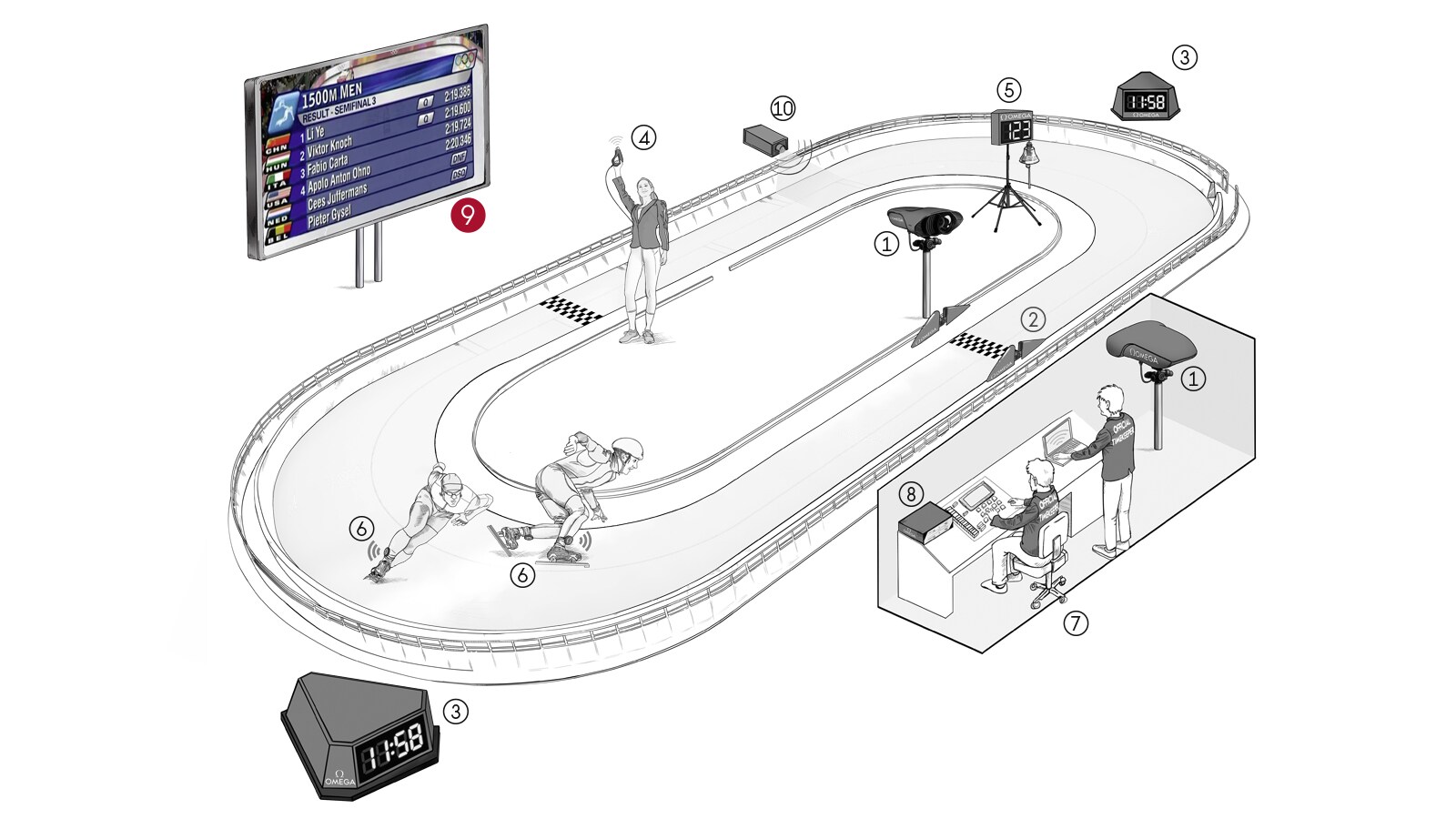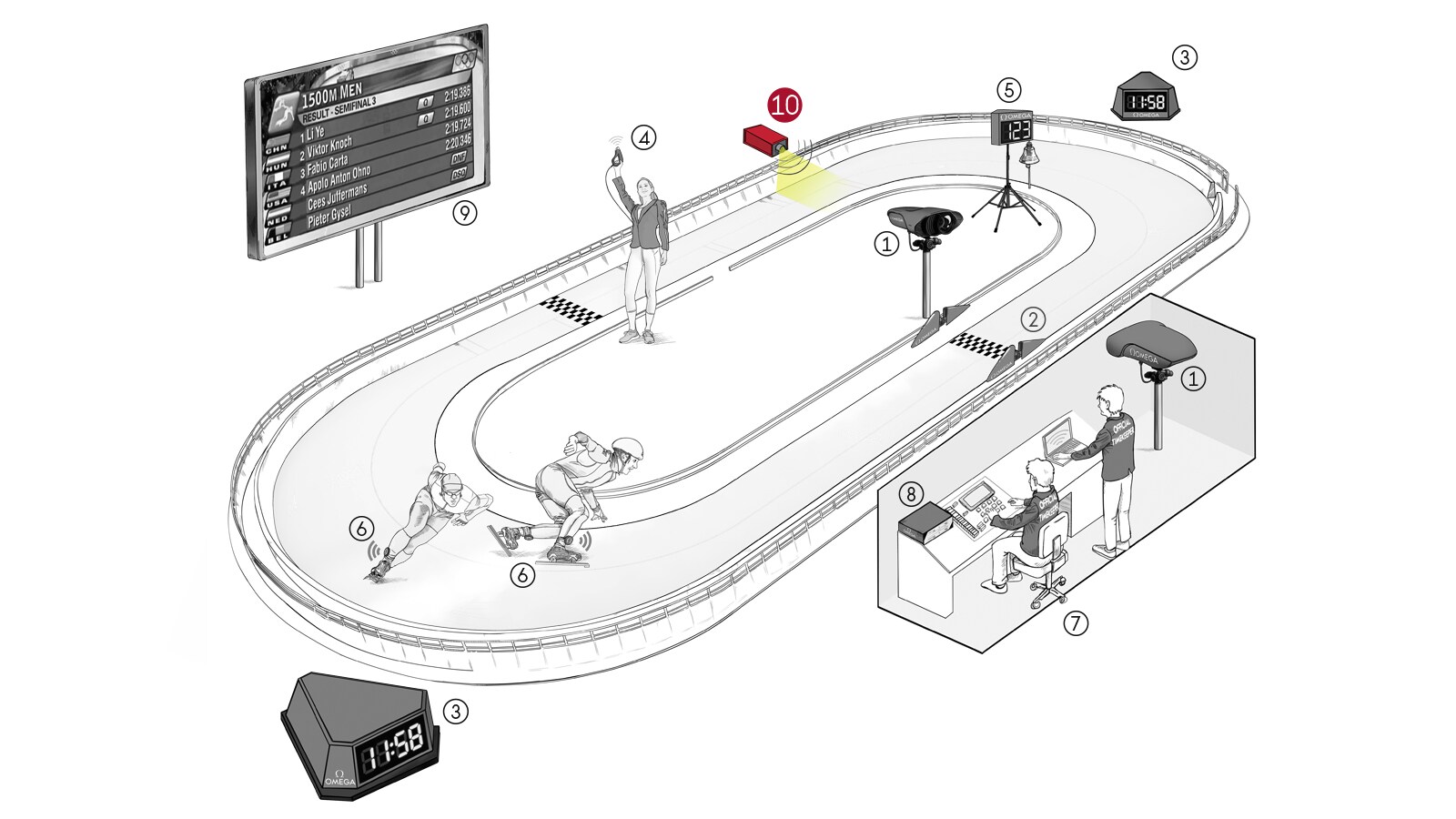 OMEGA's Alpine Ski timekeeping reaches new peaks in 2018
Despite the 'blink and you'll miss it' pace of alpine skiing, OMEGA's timekeepers never lose sight of a competitor's performance, even as they speed down the course. "Snowgate" starting gates, infrared photocells and back-up Myria cameras recording 10.000 digital images per second, track every dramatic downhill moment, from start to finish.
1. Start Gate
2. Start Clock
3. Infrared Photocells
4. Main Public Scoreboard
5. Timing Room
6. Motion Sensor
7. OMEGA Timer
8. Antenna for Motion Sensor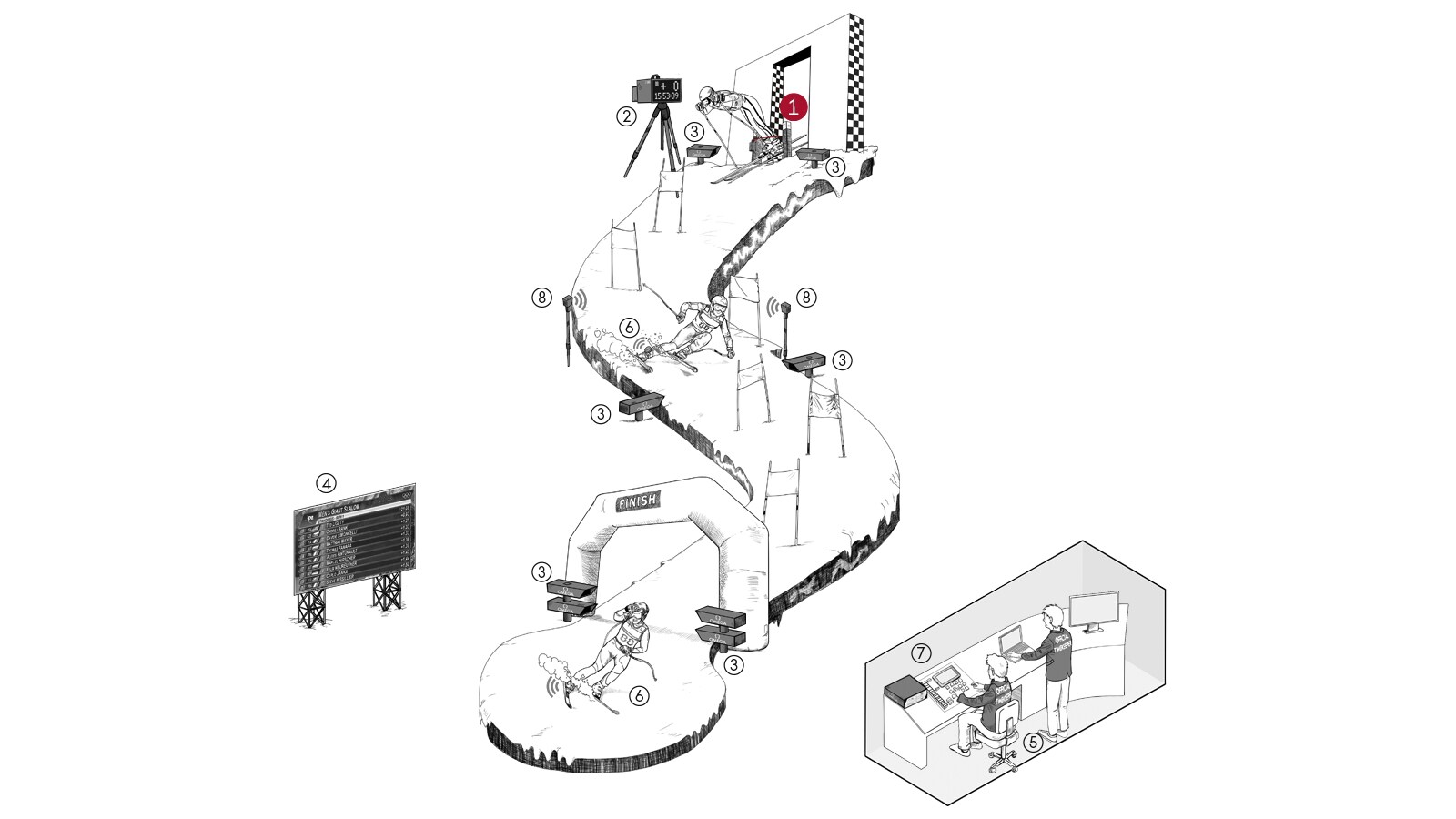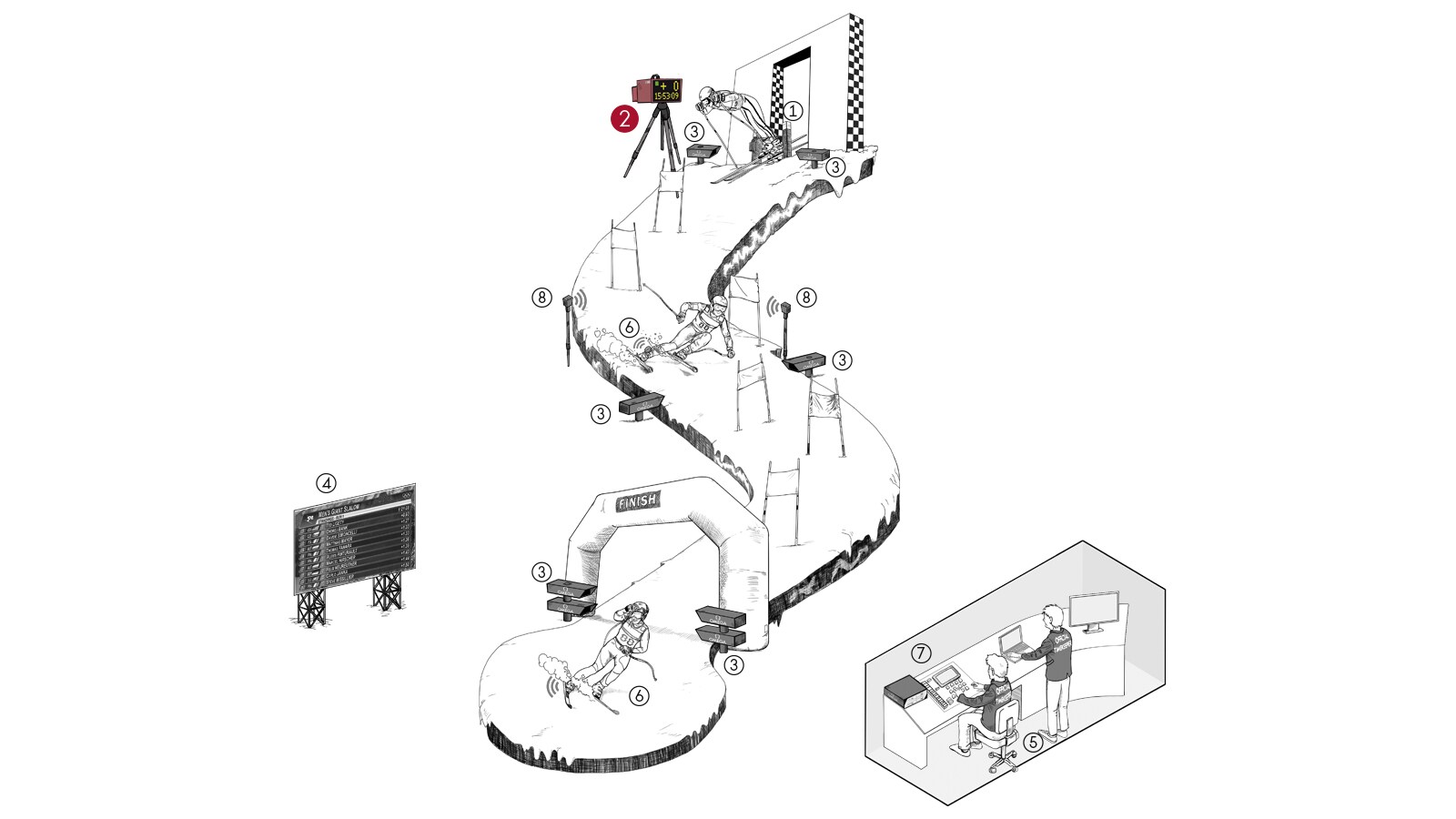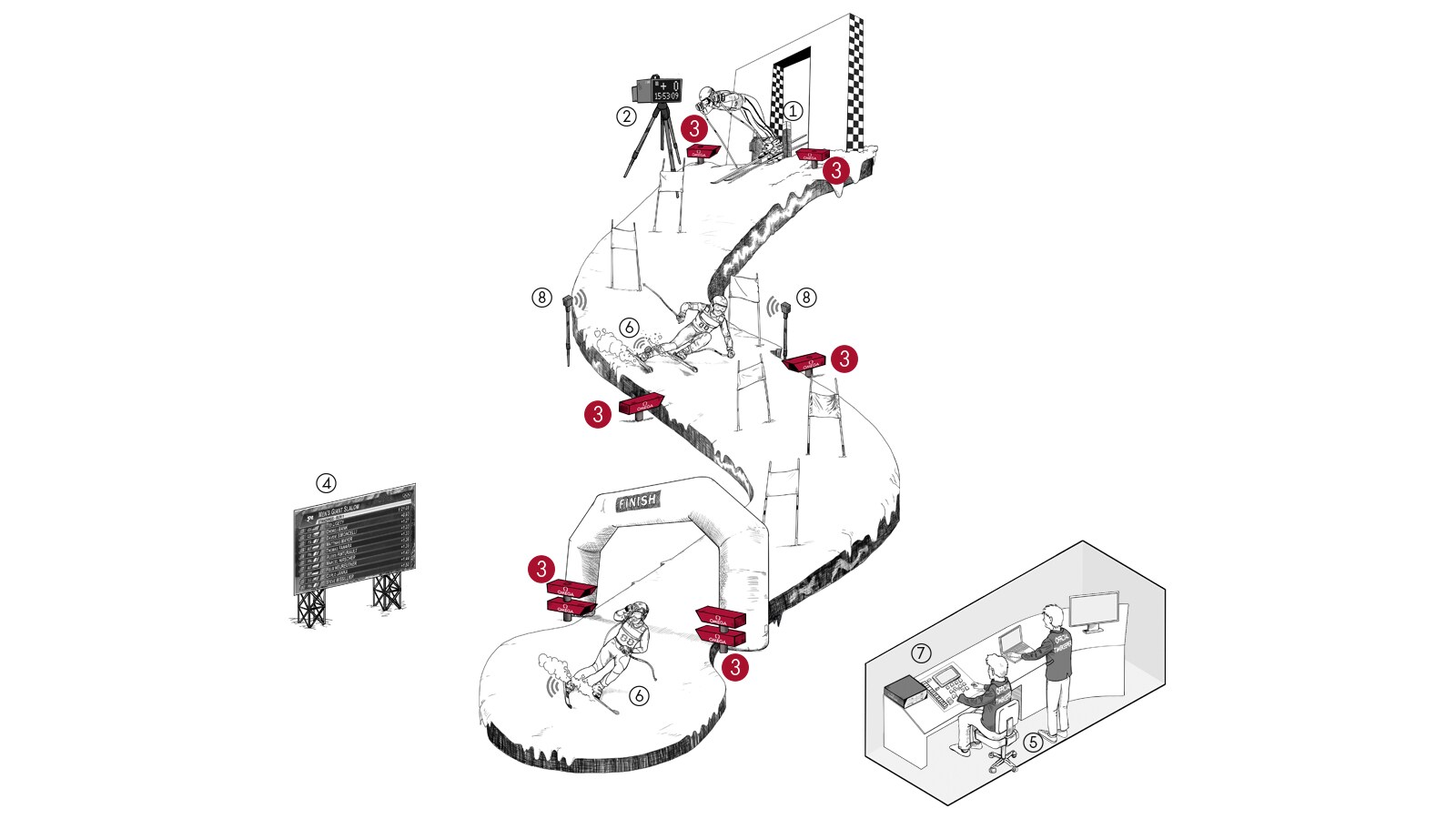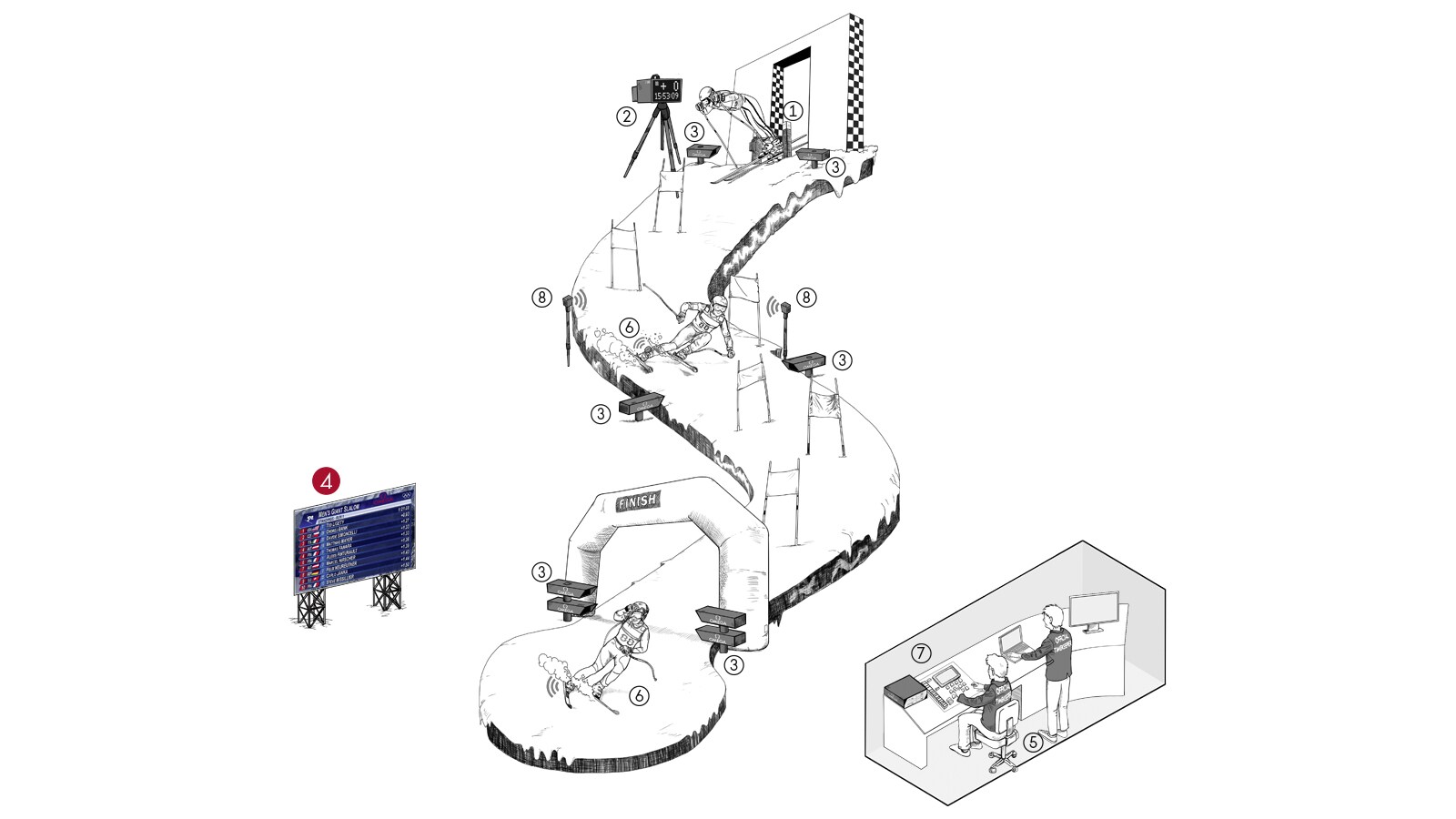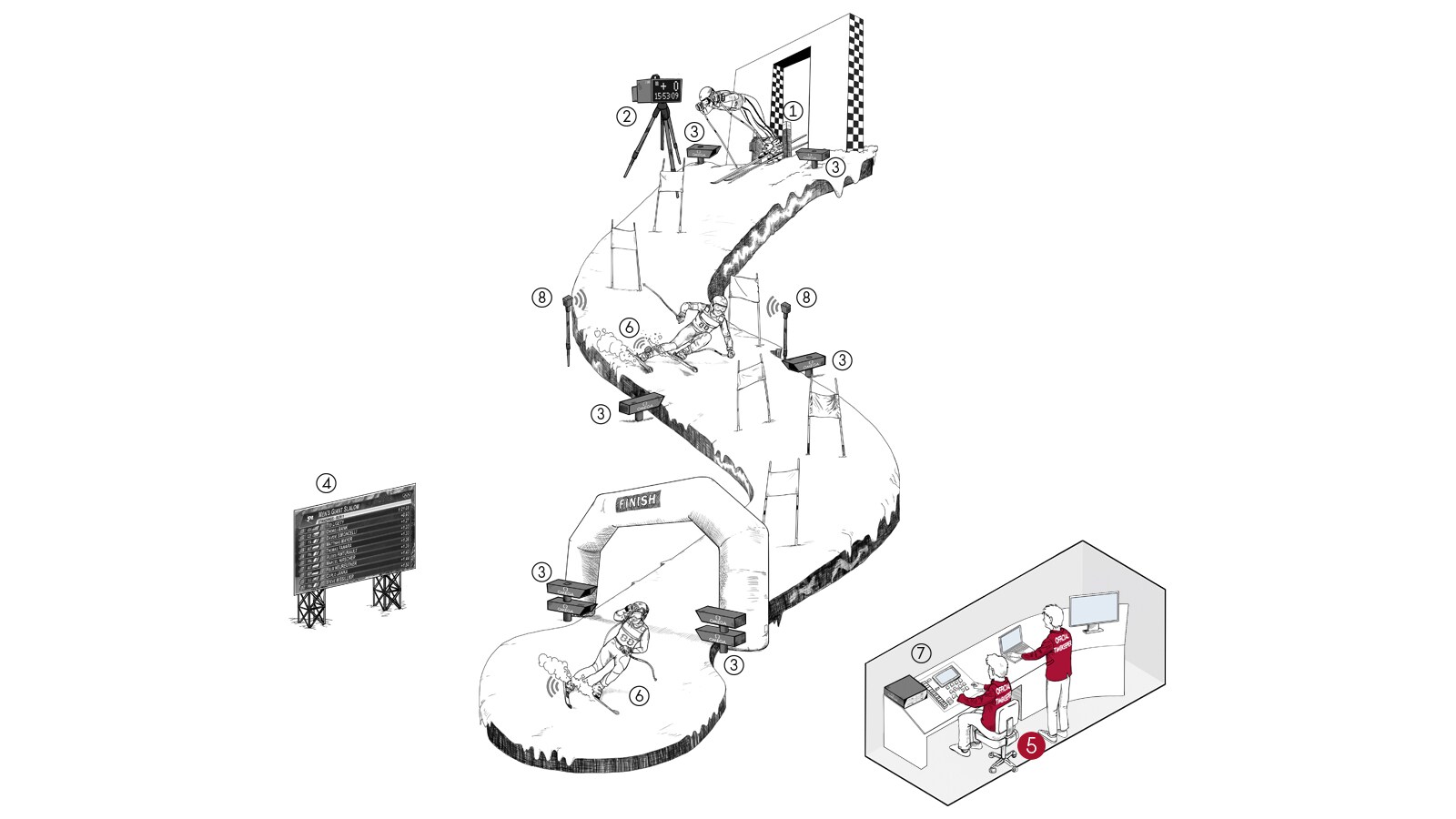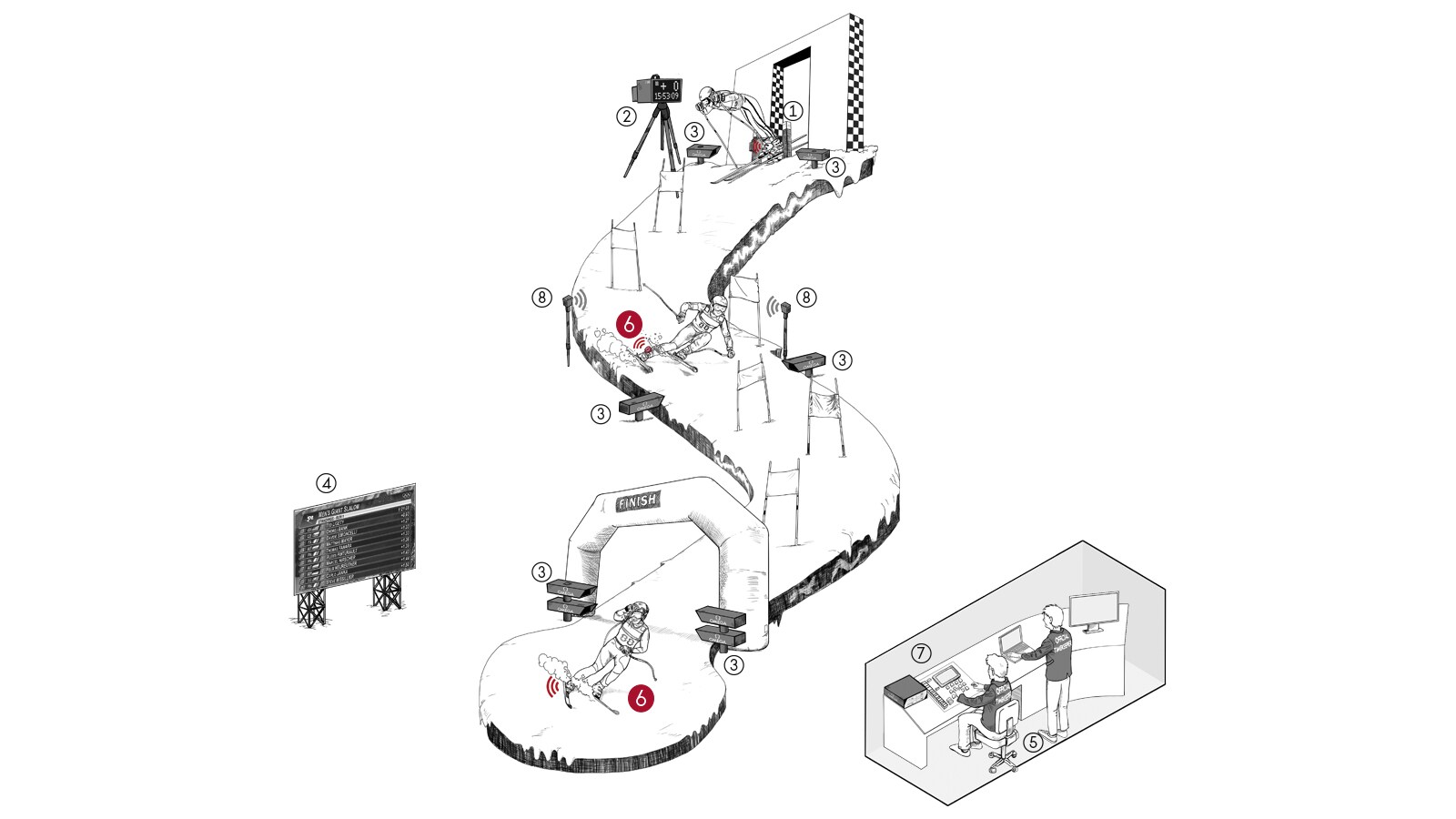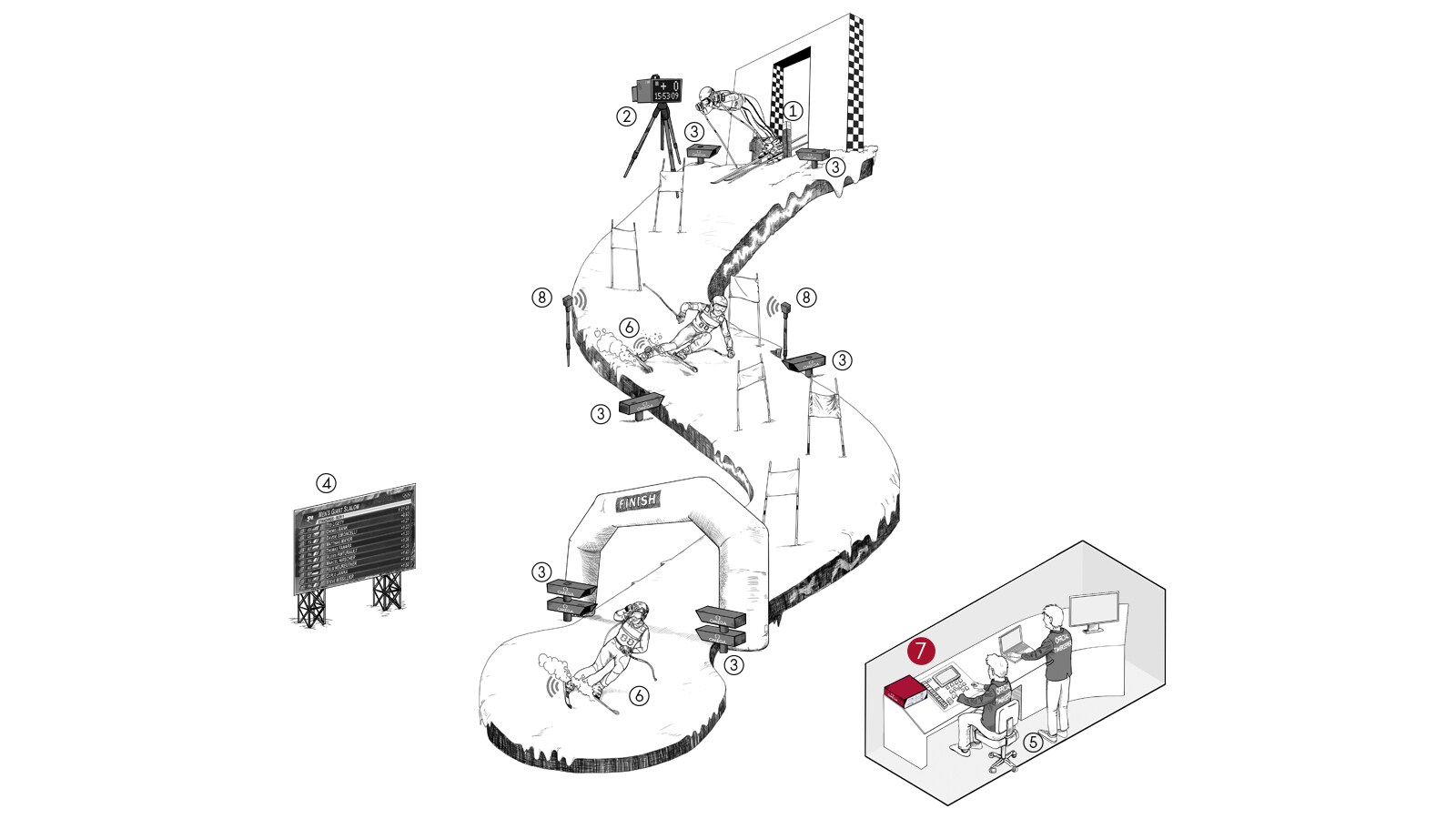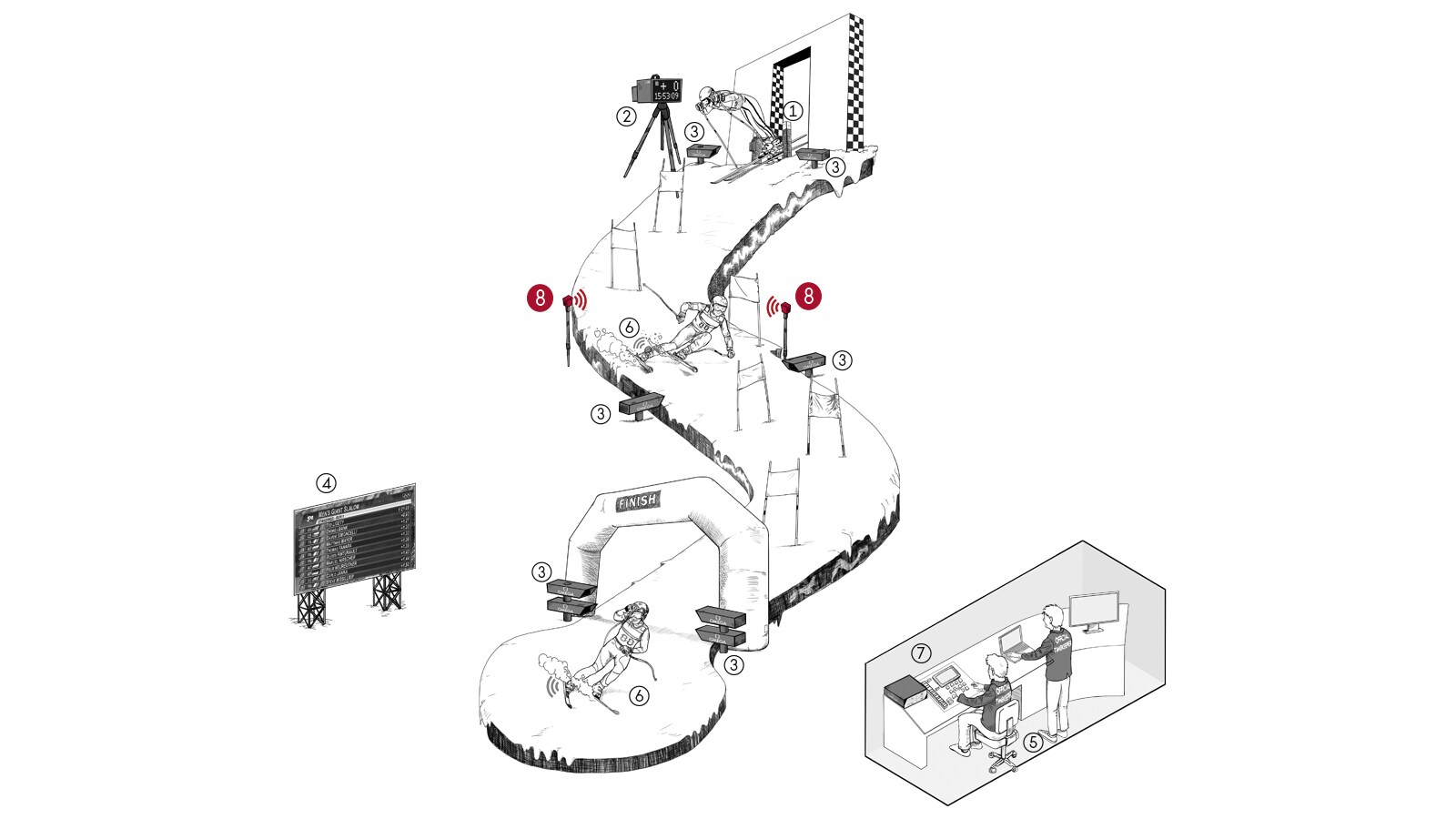 OMEGA's Ice Hockey tech gets among the players
Ice Hockey is fast and often furious, but OMEGA's timing and scoring system instantly relays all the necessary information and live time from each game to the scoreboards and beyond. Officials on the ice are fitted with OMEGA's Whistle Detection System, and motion sensors - attached to the backs of players – provide essential in-game data.
1. OMEGA Timer
2. Public Scoreboard
3. Whistle Detection System
4. Motion Sensor
5. Antenna for Motion Sensor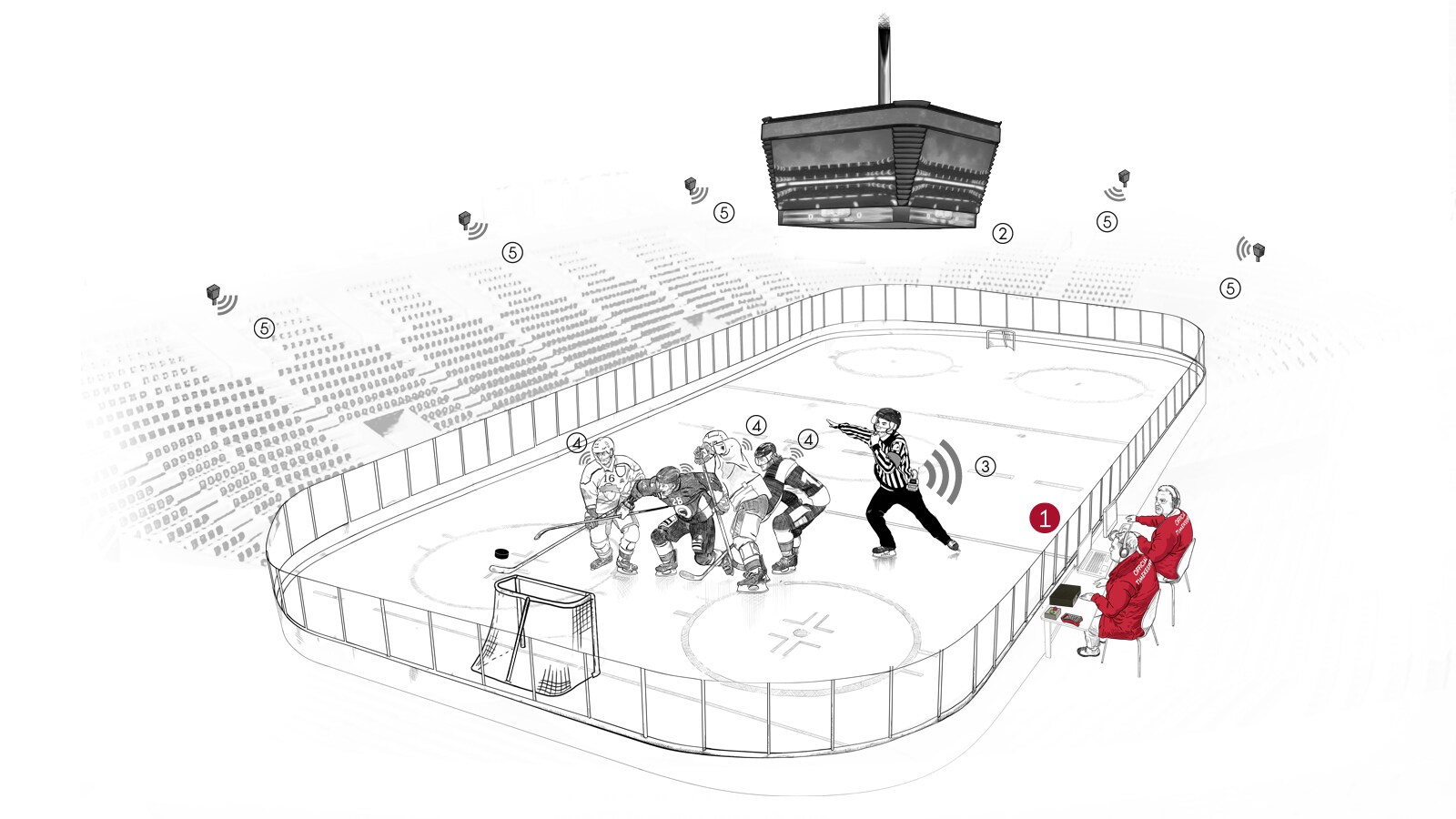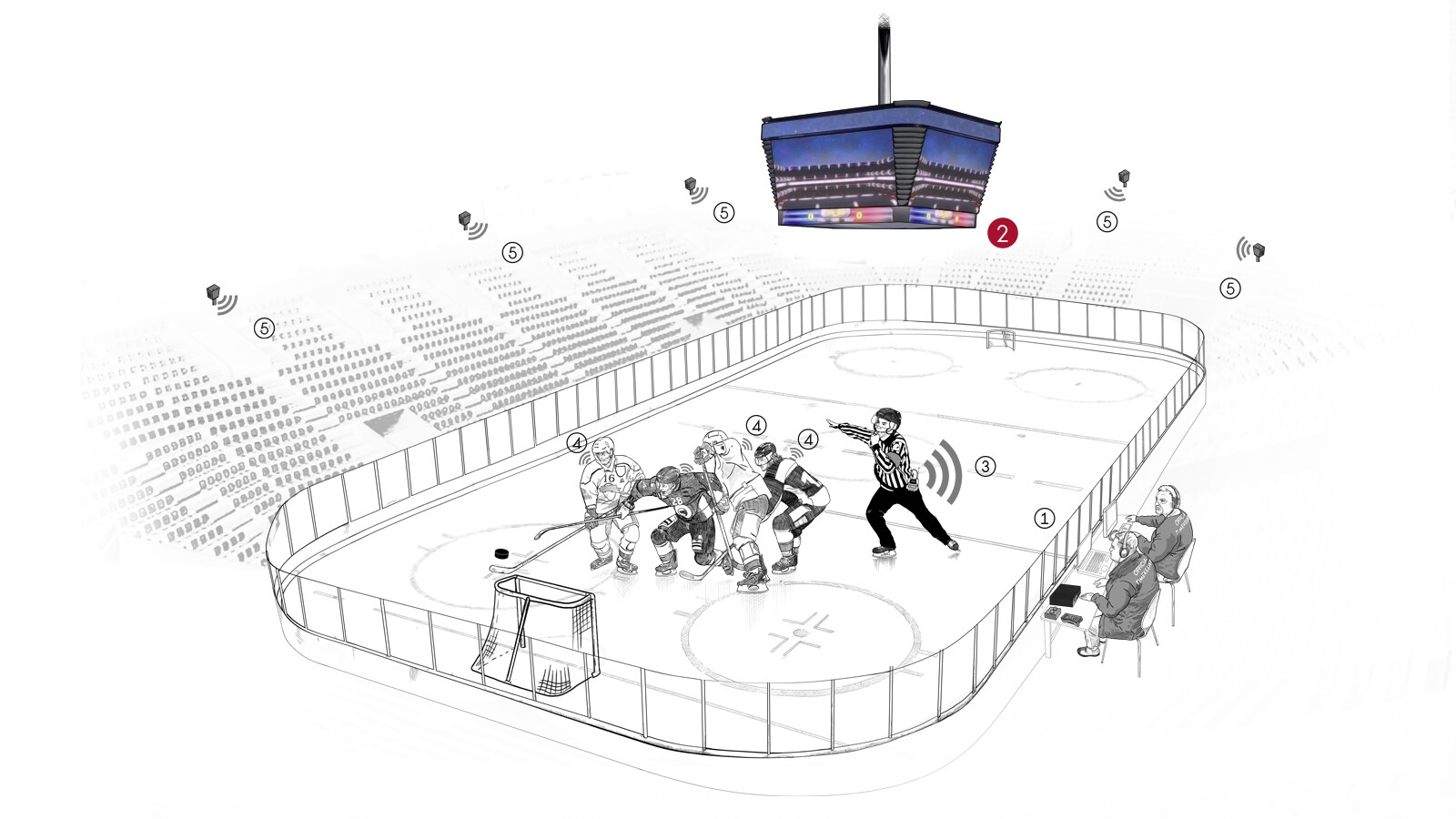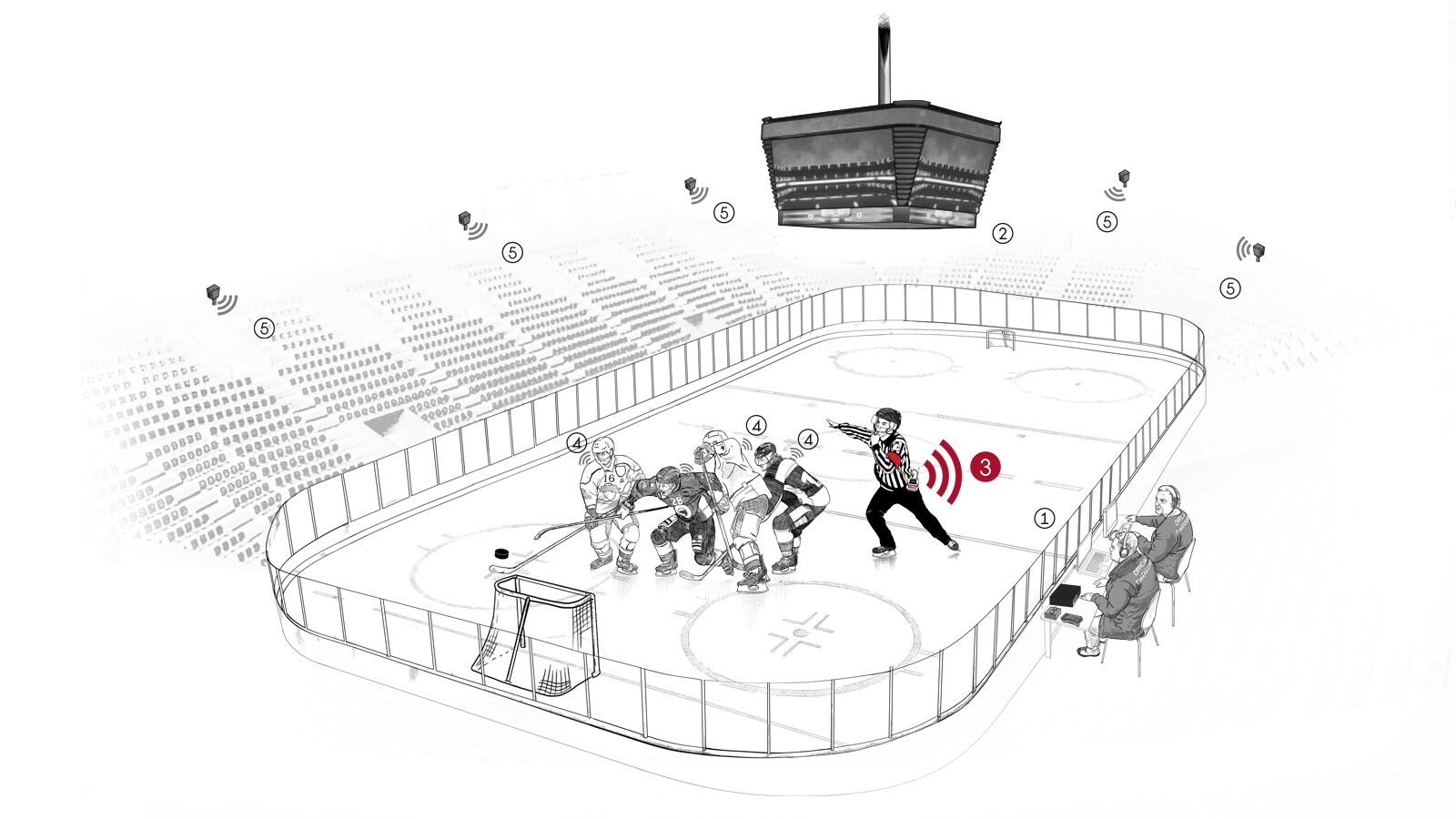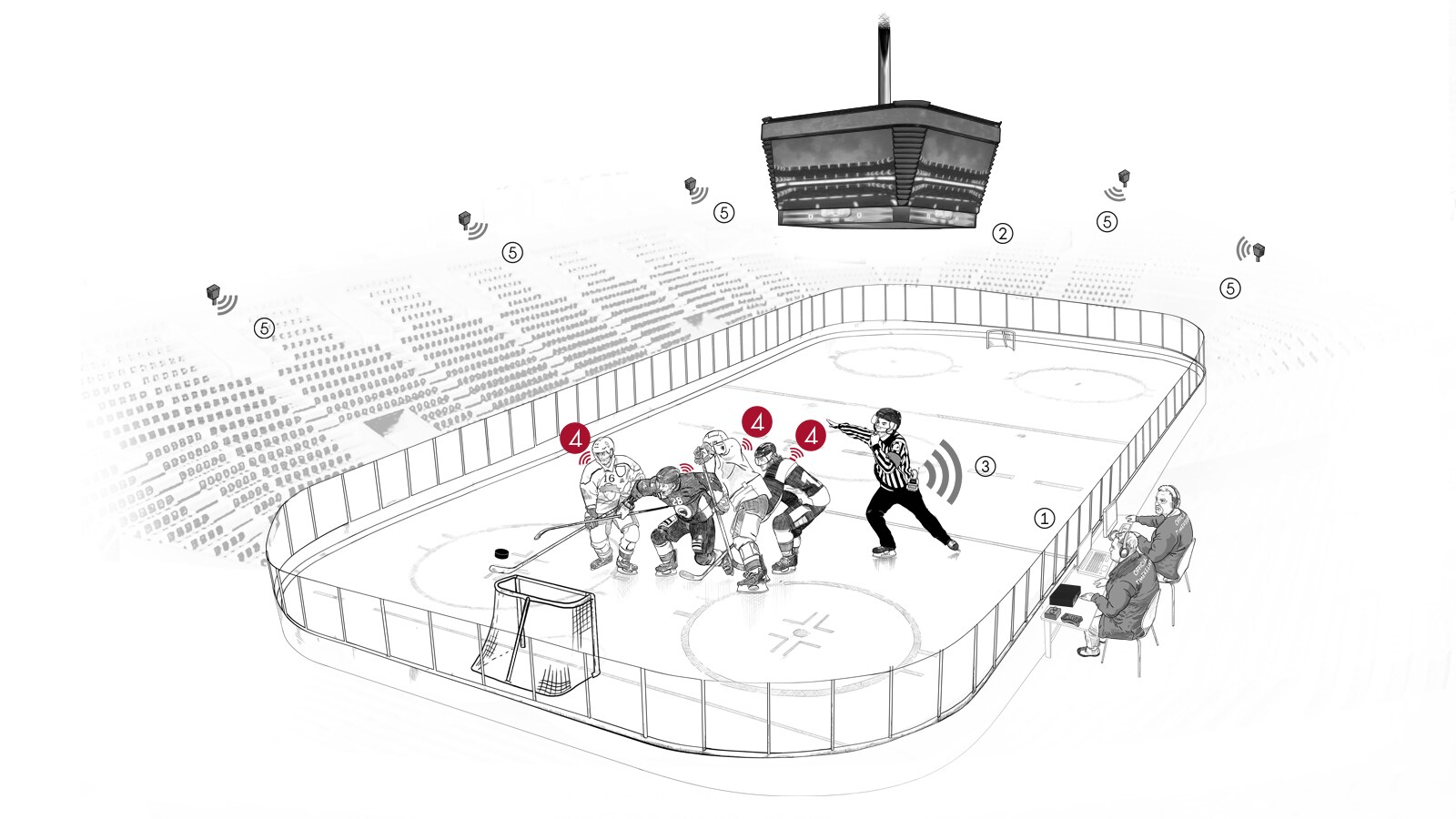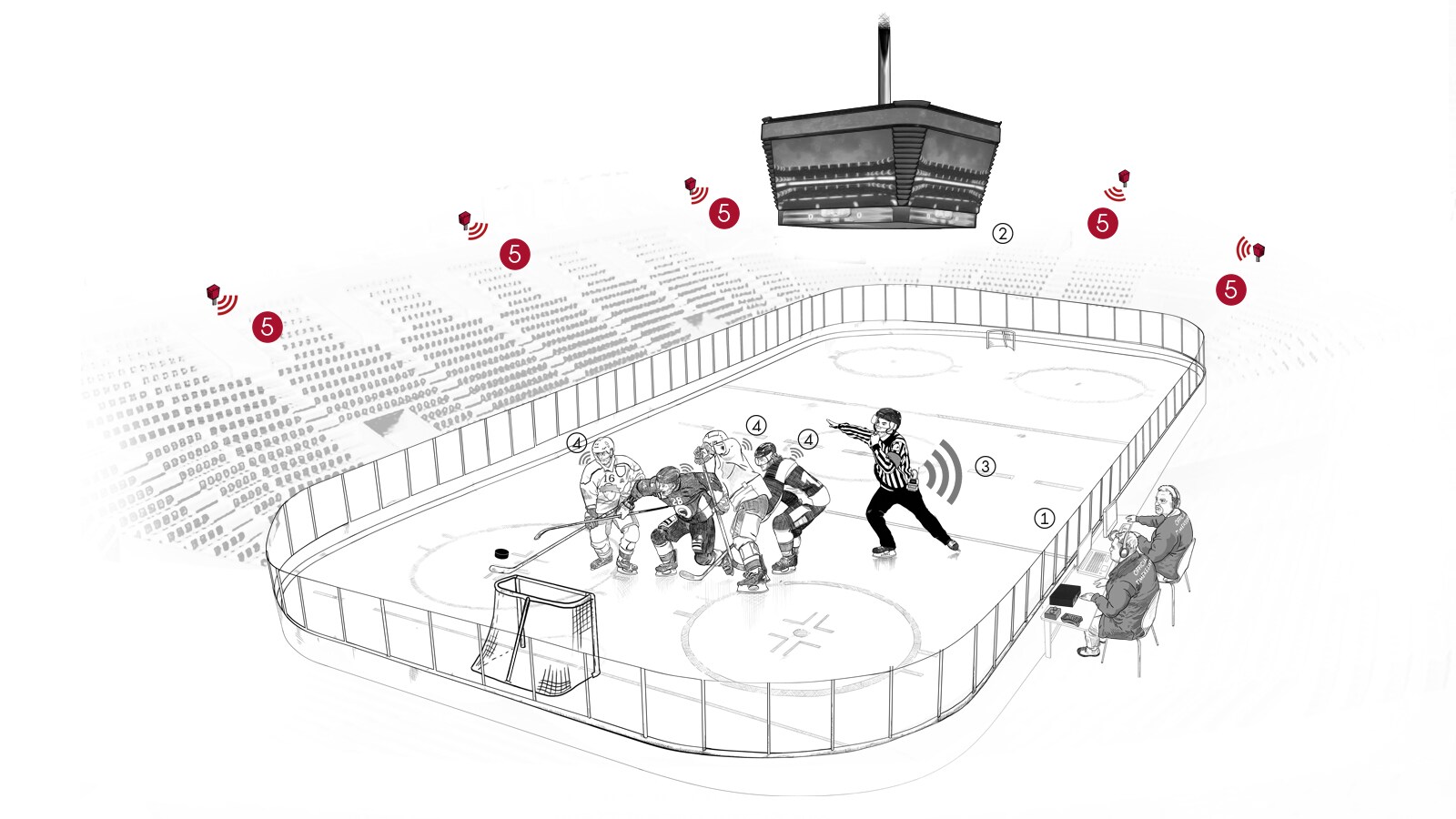 HOW OMEGA TIMES THE BIG AIR EVENTS
This new Olympic Games sport involves competitors performing tricks after launching off very large jumps. To keep the thrills on high spin, each Judge's Keypad is linked to OMEGA's Timing and Scoring Room, allowing instant transmission of results to athletes and spectators. OMEGA will also attach motion sensors to the boots of the athletes to capture Big Air stats mid-flight.
1. Judge's Keypad
2. Public Scoreboard
3. Motion Sensor
4. Antenna for Motion Sensor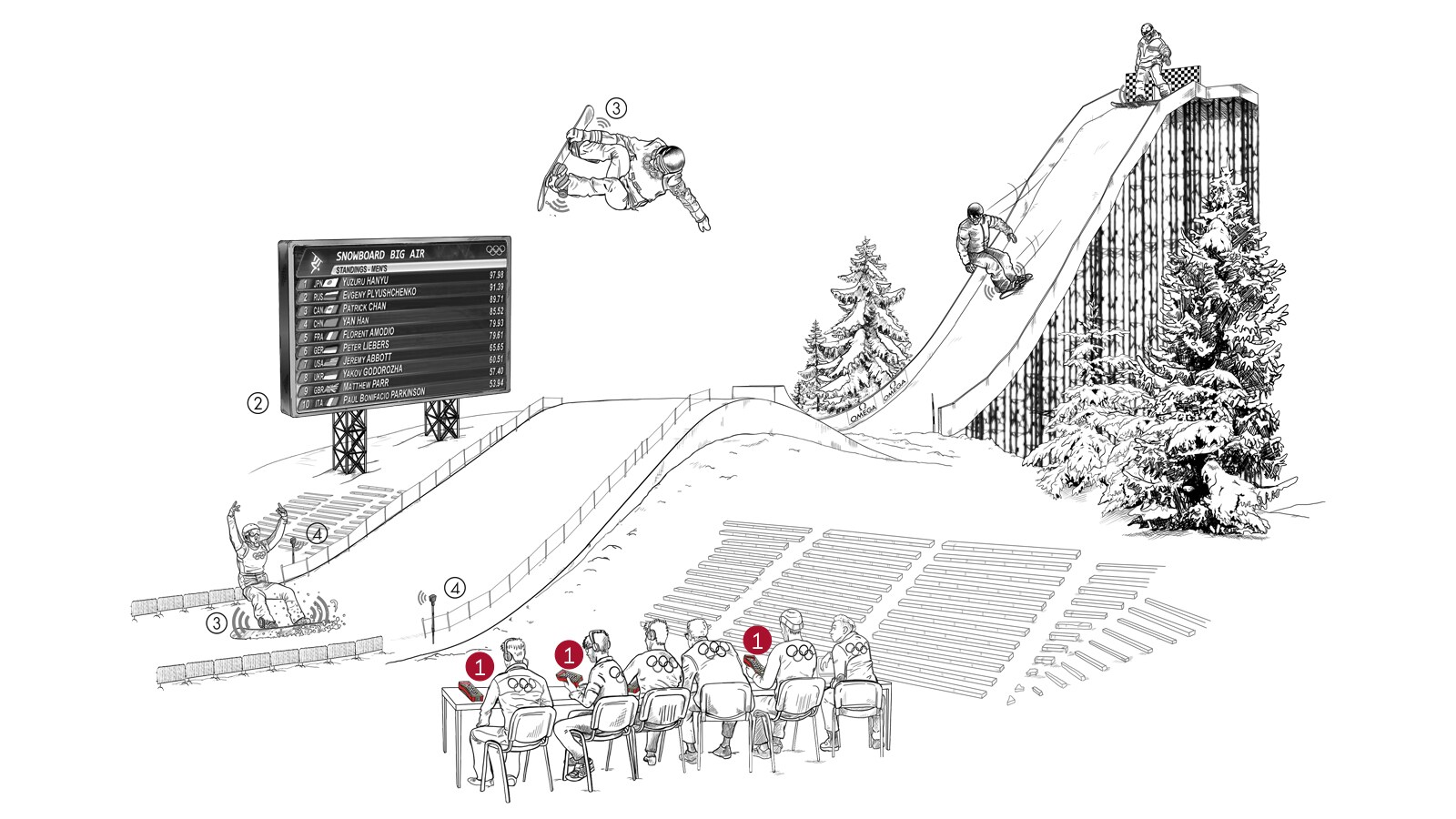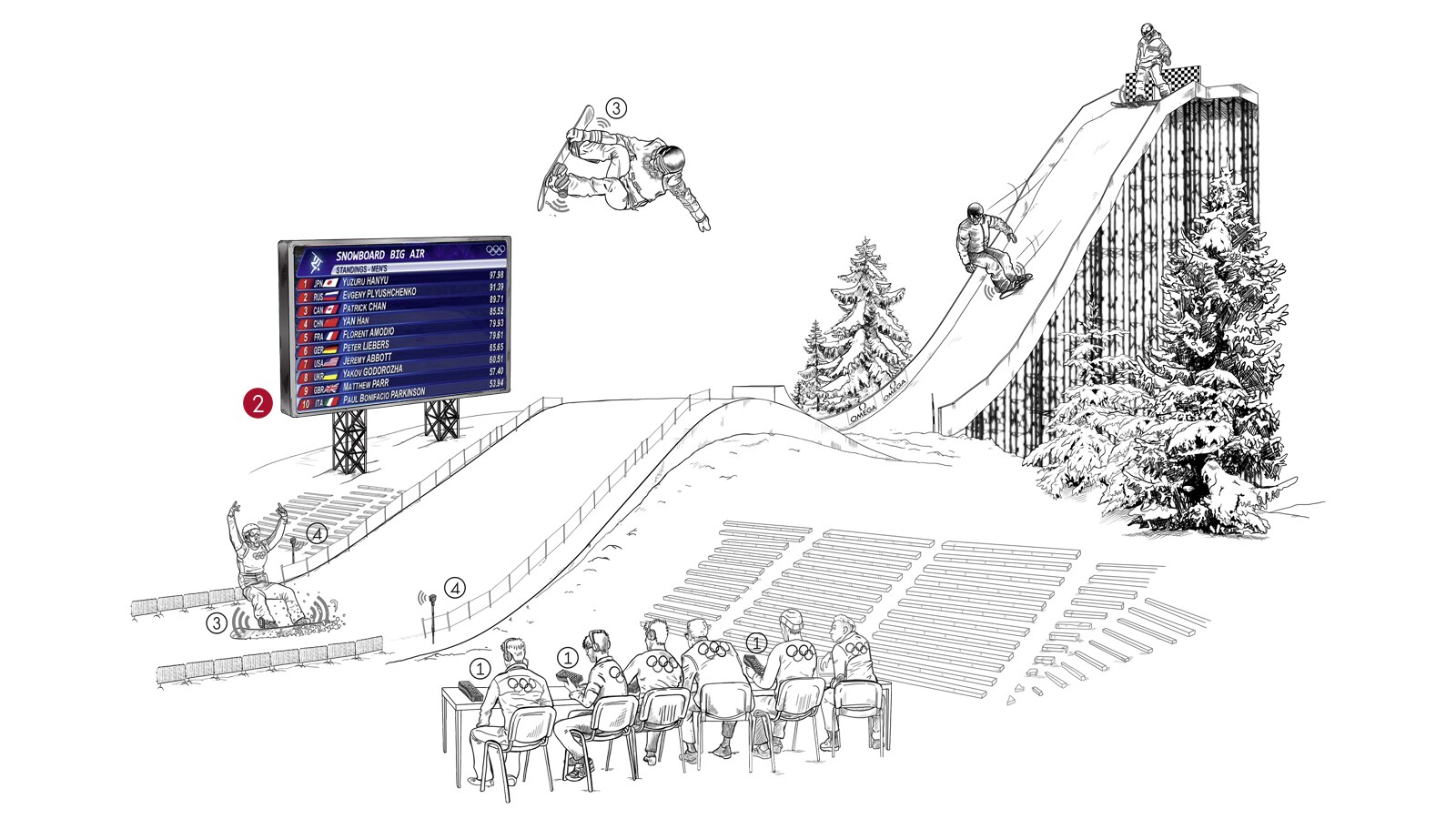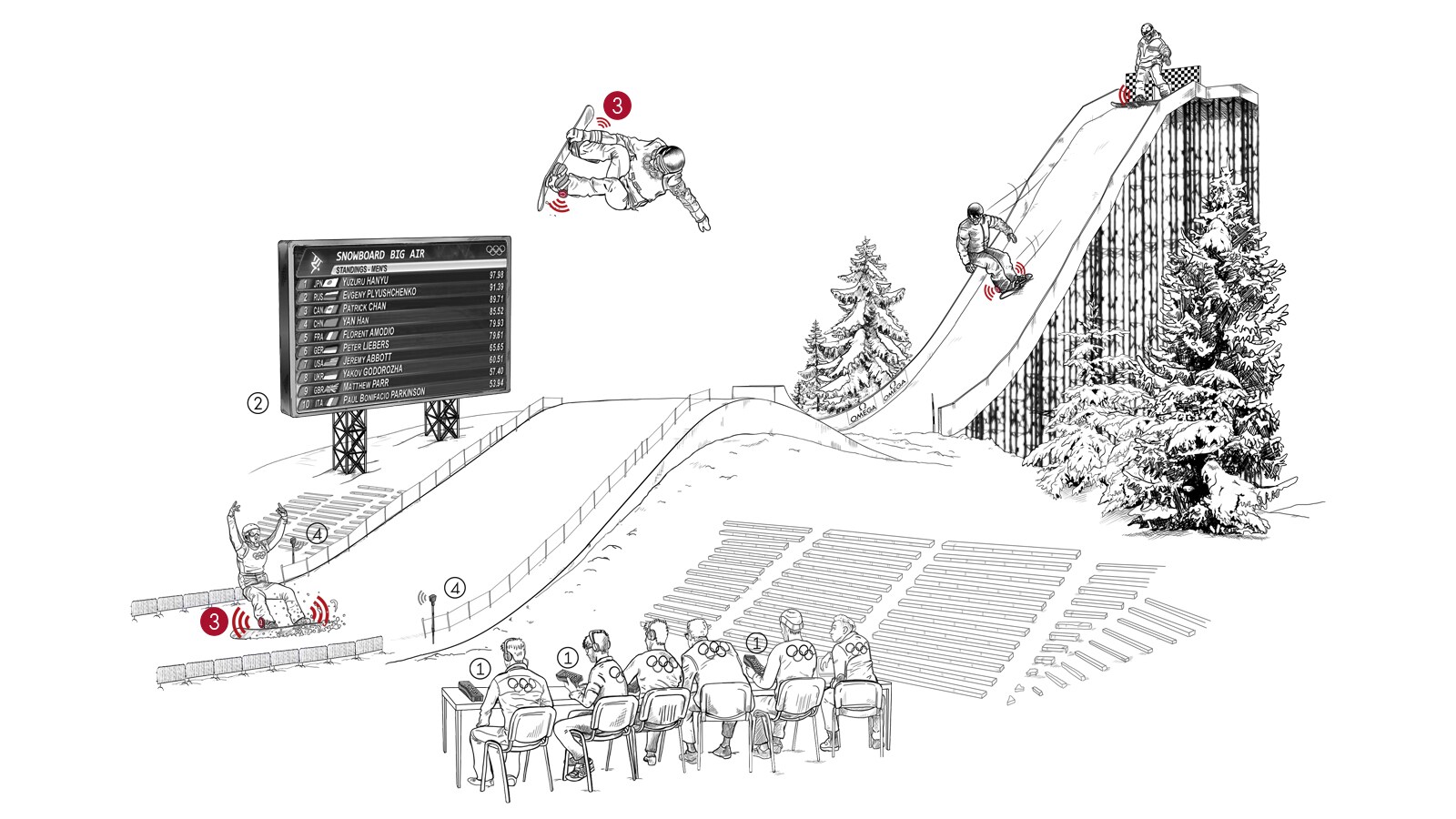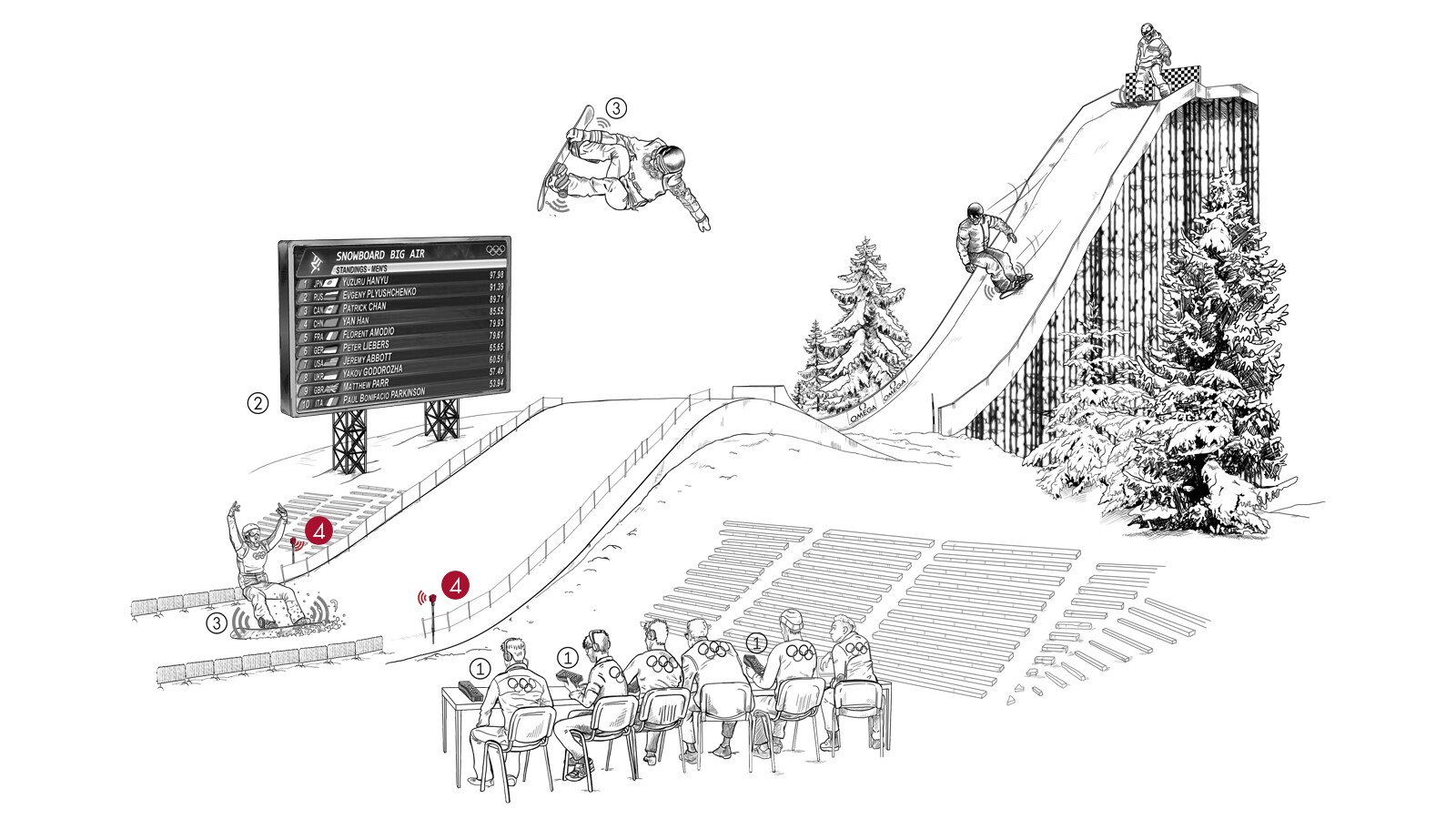 …"In stark contrast to OMEGA's first Winter Olympic Games in 1936, timed with just 27 stopwatches, 230 tons of timekeeping equipment will be used in Korea"…
THE LAST-LAP BELLS: OMEGA's BRONZE-AGE TECH
Not every piece of timekeeping equipment is cutting edge. OMEGA's bells, which are used to signal the final lap in speed skating, have been virtually unchanged for centuries.
HERITAGE
OUR PROUD OLYMPIC GAMES LEGACY
On 27 occasions since 1932, OMEGA has fulfilled the role of Official Timekeeper at the Olympic Games. From the start line to the scoreboard, we have been in charge of every second in every event.
See more OUR PROUD OLYMPIC GAMES LEGACY
See more