At a special press conference at the Royal Society in London, the Starmus Festival announced a brand new partnership with OMEGA.
The Starmus Festival is a combination of science, art and music, and its goal is to help the general public understand and appreciate science. As part of its partnership, OMEGA is proudly supporting the Stephen Hawking Medal for Science Communication. The Medal recognises people who promote science through different disciplines such as music, arts and cinema. On June 20th this year at the Starmus Festival, three winners will be selected from three categories including: Science Writing; Films; and Music and Art.
OMEGA will present the winners with a brand new 18K yellow gold OMEGA Speedmaster watch. On the back of the watch, the brand has included a unique engraving that mirrors the design of the actual medal itself. This includes an image of the cosmonaut Alexei Leonov during the first ever human spacewalk as well as the "Red Special" guitar of Queen's Brian May.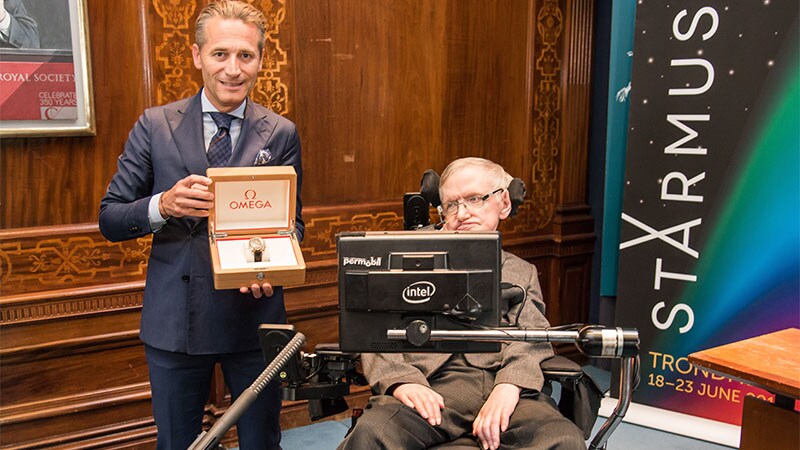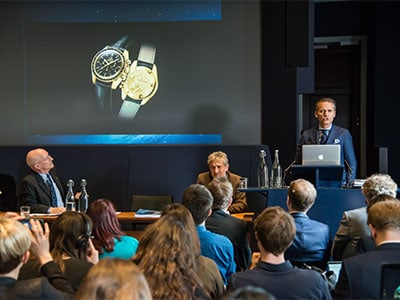 Raynald Aeschlimann, the President and CEO of OMEGA, spoke on stage during the announcement and shared his views on the new partnership. "As we know in watchmaking, it's not always easy to communicate new innovation or complex technology. In science, I'm sure it's the same. That's why we recognise the importance of the Starmus Festival. It embraces creativity to help the general public understand and appreciate everything about science. This partnership is something very new and different for OMEGA. But our brand has a strong history within science and we wanted to maintain our commitment to this important area."
Professor Hawking himself was at the press announcement along with Professor Garik Israelian, the Founder of Starmus; Professor Claude Nicollier, the first Swiss astronaut and close friend of OMEGA; and Professor Edvard Moser, the renowned Norwegian psychologist and neuroscientist.