Breadcrumb
Planet Omega
THE CALL OF THE SEA
THE CALL OF THE SEA
For a watch company firmly rooted in a nation many miles from the nearest coastline, OMEGA's passion for the ocean is boundless. Our connection to the sea has taken us to extraordinary places. It's a fascinating story - and we're proud to share it with you.
OMEGA'S OCEAN HISTORY
Decades before venturing into space, OMEGA set out to explore the sea. In that time we have played a significant role in ocean exploration and will no doubt continue to do so, as the huge body of water that claims two thirds of our planet remains one of earth's great mysteries.
Defining dates
Important moments in our ocean history
Explore our timeline and learn about OMEGA's connection to the sea from past to present.
1932
The OMEGA Marine
Tested in Lake Geneva at 73m, the OMEGA Marine emerges to become the first commercially-available divers' watch.
1936
Beebe's choice
Inventor of the 'Bathysphere' Charles William Beebe calls the OMEGA Marine a 'true progress for watchmaking science'.
1957
The Seamaster 300
OMEGA's first professional divers' watch, the Seamaster 300, would eventually be selected by the British Royal Navy..
1968
WORLD RECORD
In 1968, two divers, each wearing a Seamaster 300, establish a world record of simulated diving at 365 metres.
1970
OMEGA AND COUSTEAU
Jacques Yves Cousteau placed his trust in OMEGA at depth and on land, wearing at various times, the Seamaster 300, the Seamaster 1000 and the Constellation Marine Chronometer. In the 1970's, Cousteau used the Seamaster 600 - the 'Ploprof' – during a series of diving endurance experiments.
1981
The Big Blue
Jacques Mayol, the "Human Dolphin", set a world freediving record of 101 metres with an OMEGA Seamaster 120 on his wrist.
1993
The Professional
OMEGA releases the Seamaster Professional 300m which becomes a true diving classic.
1995
Peter Blake
Round-the-world skipper and America's Cup legend Sir Peter Blake becomes an OMEGA ambassador.
2005
Planet Ocean
The OMEGA Seamaster Planet Ocean salutes the legends of ocean exploration and our proud maritime history.
"I wore my OMEGA Marine in the Pacific Ocean at a depth of 14 metres, where the pressure is twice the normal one. Its tightness to water and dust and its robustness to corrosion represent a true progress for watchmaking science."
WATCHES MADE FOR WATER
At OMEGA, our designs are drawn from the deep, not plucked from thin air. It is the needs of professional divers that drive our innovations. We consult first - and then we dive in.
WATER RESISTANT
For a divers' watch to remain water resistant at depth, it must survive crushing pressures. At OMEGA, we test our divers' watches in water at a minimum depth of 30 bar (300 m/1000 ft) depending on the model. For extra security, we then add 25% more pressure as set by international standards.
HELIUM VALVE
When working at great depths, professional divers stay in a diving bell and breathe a mixture of gases containing a high proportion of Helium (He). The escape valve prevents He molecules, which expand during decompression, from popping the crystal face and caseback of the watch.
THE UNIDIRECTIONAL ROTATING BEZEL
A unidirectional 60min diving bezel makes it easy for a diver to measure elapsed time, while preventing them from accidentally rotating it the wrong way and miscalculating their dive time. A notable exception to this is the Ploprof, which has a bidirectional bezel but features a security pusher to lock it firmly in place.
LUMINESCENT HANDS, INDEXES AND DOT
Underwater, it can go from daylight to dark in an instant, so the different hands on the watch must be clearly distinguishable and the display uncomplicated and easy-to-read. All OMEGA divers' watches feature a luminescent dot on the bezel to mark the start-time of a dive.
EXTENDABLE BRACELET
A divers' watch must fit tightly around the wrist, so it's crucial that the bracelet extends to make extra room for the thickness of the diving suit.
PUSHERS THAT WORK PERFECTLY UNDERWATER
A pusher needs to work perfectly at depth, without letting water into the watch. This technological challenge has been met head-on by OMEGA.
All pushers on our divers' chronographs are completely functional underwater.
ANTIMAGNETIC
Magnetic forces in electronic devices used on land, on deck and even under the sea, can throw a divers' timepiece out of synch. What's more, diving equipment often includes magnetic devices. So it is a force that must be resisted.
SHOCK & SCRATCH RESISTANT
Diving is filled with unforeseen hazards, especially when exploring caves, shipwrecks and reefs. OMEGA's 'NIVACHOC' system protects the watch's regulatory organ, so that it remains functional even if knocked against hard surfaces. Protecting the dial is the scratch-resistant sapphire crystal.
THE SEAHORSE
Inspired by the historical markings on gondolas in Venice, the Seahorse became the symbol of the Seamaster in 1958 and is still featured on a selection of models.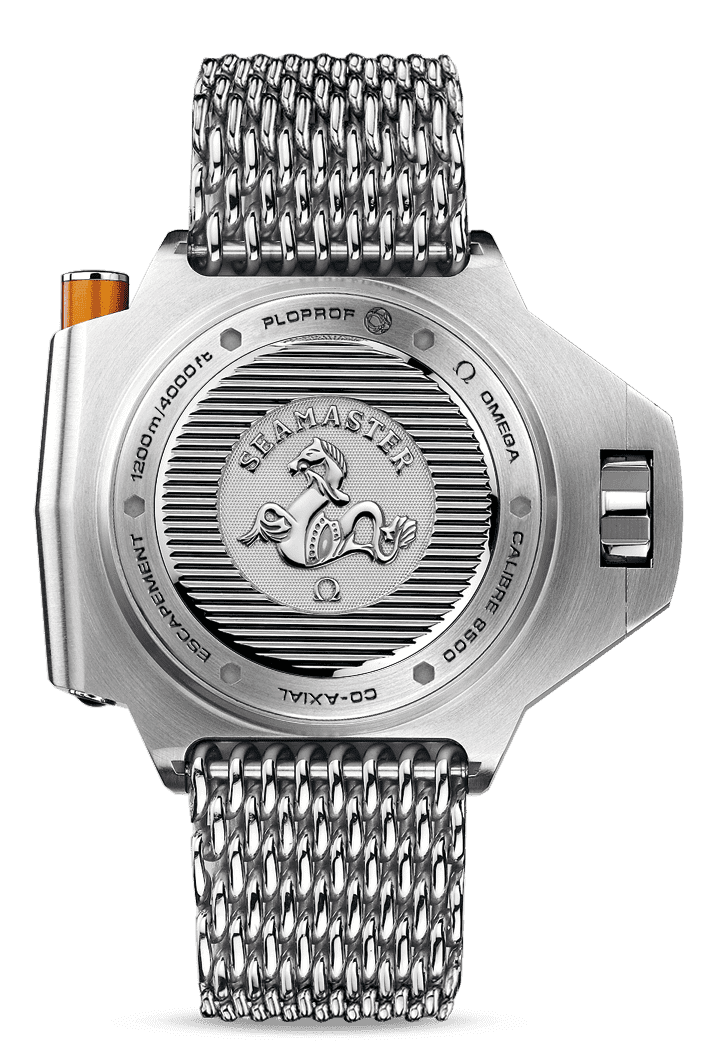 PLANET OCEAN "DEEP BLACK"
OMEGA has combined black ceramic with depth-defying technology to create four striking new divers' watches that look beautiful and perform brilliantly, both above the waves and deep below.
PLANET OCEAN "DEEP BLACK"
DISCOVER THE COLLECTION
OUR OCEAN-INSPIRED WATCHES
A DEEP COMMITMENT TO PRESERVATION
Our connection to the sea has made us acutely aware of how fragile our oceans are. With the eco-documentary Planet Ocean and the "Time for the Planet" conservation projects, OMEGA and GoodPlanet show how we can all help preserve the health of our precious planet.